Resurrecting Harry by Constance Phillips
Most of us have heard of the great Harry Houdini, master escape artist and illusionist, but maybe you didn't know that he died rather young, at 52, and not from a failed escape attempt, but from complications after a ruptured appendix. Constance Phillips has taken the somewhat well known story of Harry Houdini and added a beautiful twist.
After Harry passes away, he leaves behind the love of his life — Bess. Resurrecting Harry is a story about what could have happened to Bess if Harry had been able to make the greatest escape of all — escaping death. The story begins when an awe-inspiring and supernatural spirit named Jaden, offers Harry a chance to return to life and his beloved Bess. However, there is a catch, Harry must assume a different body and not tell anyone who he really is, especially his wife. His new persona is the young and handsome Erich Welch. Erich/Harry now has only one month to convince Bess not to contact Harry via a séance on the one year anniversary of his death. If she cancels, Harry will be granted a second chance to live the rest of his life with his true love.  Unfortunately Bess is being heavily influenced by her friends; friends that Harry does not trust.
I was immediately drawn into the story and the history.  Resurrecting Harry is a wonderful tale of how love endures and conquers everything, even death. It is beautifully written and told through both Harry's and Bess's points of view. The transformation of Harry's feeling and attitudes throughout the novel are believable and moving. The interactions between the other characters in Resurrecting Harry are well developed, interesting, and kept me turning pages as fast as I could. I won't give away any spoilers, but I thoroughly enjoyed the interplay between the characters and the suspenseful ending. I was touched by the writing and felt the author captured the lengths to which men will go to honor, protect, and love the women in their lives.
I was given an advance reader copy (ARC) of Resurrecting Harry from the author. The novel is absolutely fantastic and I highly recommend it. I also had a chance to interview Constance Phillips. She willingly put up with me and answered a few of my questions.
What inspired you to write a novel about Harry Houdini and his wife?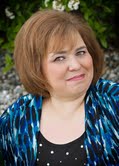 There were several things about their story that attracted me, but it really all boils down to the love story.
I'm a sucker for a love-at-first site story and always love stories about fated souls. While it's romantic that she never found love again and spent several years conducting séances on the anniversary of Harry Houdini's death, I also found it tragic. I always want that happily-ever-after.
I was in the car one day (all of my best story ideas seem to come to me while I'm driving) and was struck with the thought "What if Harry Houdini had escaped death?" I did want a spiritual contact from the other world, but truly escaped death.
I sat down later that day and wrote the first, short chapter – which really hasn't changed much in all the revisions. Once I had that foundation, there was no looking back. I knew it was a story I had to write.
What was the most fascinating or intriguing thing you learned about Harry, or Bess, while doing your research for the novel?
He was really a fascinating man. I knew about his dislike for spiritualists and the coded message that had been promised from beyond the grave, before I started writing the book. What I wasn't aware of was his meager beginnings and how hard he worked to gain success. (Though, that isn't really surprising given the level of his success.)
I was also intrigued by how Bess was really a partner in their act.
Do you only write paranormal?
No. I do write contemporary stories, too.
What are you currently working on?
I've just finished polishing a short story that is in the Fairyproof world and am about to start revising the rough draft I have for a second full-length novel that would follow up Fairyproof (and hopefully this short.).
I'm also trying to polish two contemporary stories (One full length and one short) and hope to start writing a follow-up to Resurrecting Harry soon.
What is your writing space like?
I have a room in my home that is designated as my 'office space.' When my kids were younger, they attended a digital academy from home and we had their school computers and my space set up in that room so I could write and help them with their school work.
Though I still have that space, I most often write on my laptop in my favorite recliner after my house has emptied out in the morning. I have recently been able to cut back to working only afternoons in my husband's company so those precious morning hours have become my writing time.
Other than writing or reading, do you have a favorite hobby or pastime?
Uhm…is watching those reality shows on Discovery and the History channel a hobby? I've recently started stringing beads. My ninety-two-old grandmother got me started over the holidays.
Coffee or tea? Perhaps other?
Before noon, I have to have my coffee. After noon, I switch to diet coke.
Will you share something that is on your bucket list?
I would love to see the world. Australia, Greece and Italy are three countries that I would absolutely love to see before I die.
Blurb      You can get a copy here Amazon
Can the greatest escape artist ever known break the grim reaper's chains to save the
only woman he's ever loved?
In order to save Bess from self-destruction, Harry Houdini puts his afterlife on the line by entering a wager with purgatory's keeper. He gives Harry a younger face and body, and a new name: Erich Welch.
Bess clings to his promise to deliver a coded message from beyond the grave, determined to provide the bridge for him to cross, even if that means befriending her husband's sworn enemy.
Erich needs to help Bess over her loss and put her on the road to healing, but will any good come from resurrecting Harry?
About Constance
Constance Phillips lives in Ohio with her husband, two ready-to-leave-the-nest children, and four canine kids. Her perfect fantasy vacation would involve hunting Dracula across Europe with her daughter, who also digs that kind of stuff. When she's not writing about fairies, shifters, vamps, and guardian angels, she's working side-by-side with her husband in their hardwood flooring business.
Constance is actively involved in her local Romance Writers of America chapter (MVRWA) and the Southeast Michigan chapter of the United States Pony Club. When not writing or enjoying the outdoors, she loves reality television or can be found at a Rick Springfield concert (just look for the pink Converse high tops).
Constance blogs regularly at www.constancephillips.com. You can also follow her on Twitter or friend her on Facebook.
Website/blog: http://constancephillips.com/
Goodreads: http://www.goodreads.com/author/show/6470282.Constance_Phillips
Facebook: http://www.facebook.com/ConstancePhillipsRomanceAuthor?ref=hl
Twitter: http://www.twitter.com/CPhillips