Celebrating Earth Day and my book contract for the 2nd book in my series, An Angel Falls, I'm visiting over at a couple of my favorite bloggers sites and I am giving away 2 e-copies of Death Lies Between Us
For an amazing look into Death Lies Between Us and its author, pop on over to Author Open MIC on Wicked Romance Blog page. Jean Murray is hosting me and offering an ecopy of Death Lies to one lucky person. This giveaway will run April 22-29. Make sure to comment and enter the rafflecopter.
and…
Read a special excerpt from Death Lies Between Us and enter to win an e-copy of Death Lies Between Us here: Alythia Brown.com This giveaway is open from April 22-26 (These giveaways have ended)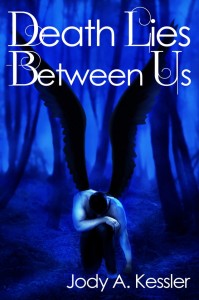 Earth Day is a wonderful day to celebrate, but I also have another reason to dance and jump up and down in celebration. Book two of the An Angel Falls series has just been signed to Crescent Moon Press. Release day TBD.
What others are saying about Death Lies Between Us.
"This story was very well paced. The characters were engaging, showed depth, character growth, and a lot of emotions. The conflict was well written, had some good plot twists, and a good amount of information to fill in any questions you might have about the Native American mythology and beliefs.
I really, really enjoyed this first book by Jody A. Kessler. Personally I'd suggest it for anyone that's a fan of Amy Plum's Revenant series or Kelley Armstrong's Darkness Rising series. I'm anxiously awaiting the next book in the series!" Paranormal Reads
"The author has managed to write a story which pulls the reader in very quickly. There are so many different elements within its pages but they all work well together. I couldn't wait to see how she would pull it off, or if these 2 two were destined to forever be apart. The ending will surprise some, but it is perfect in my opinion. I look forward to seeing what comes next from this author." F.W. at I heart Books
"Death Lies Between Us is a fascinating paranormal romance that has twists and turns that can't be predicted. I was on the edge of my seat, flipping pages furiously through most of the book. Jody A. Kessler has created the beginning of a series that keeps you wanting more. The story is tightly woven and flows beautifully from beginning to end. The supporting characters are just as well written as the main characters. There are those you love, those you hate, and some you just can't quite wrap your head around. This is definitely an author, and a series, to keep your eyes on!" My Book Addiction