Behind the Book – A Special Look at Death Lies Between Us by Jody A Kessler.
Death Lies Between Us is the first book in the An Angel Falls series. It is a new adult paranormal romance and new release from Crescent Moon Press. If you haven't had a chance to read Death Lies Between Us, here is a little more about it.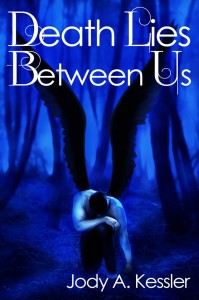 Saving the life of someone you love should not be the worst thing you have ever done, unless you are an Angel of Death.
Disgruntled with his position in the afterlife and conflicted by his feelings toward his new client, Nathaniel Evans forgoes the rules and saves nineteen year old Juliana Crowson from being hopelessly stuck in Forge Creek. This alters Juliana's destiny and she finds herself in a series of near death accidents.
In the mountains of Colorado, Nathaniel comforts Juliana as she struggles to understand her paranormal abilities while coping with her brother's drug addiction. When an ill-tempered Native American Shaman teaches her the difference between ghosts and place memories, she decides she wants nothing to do with the supernatural world. Too bad she doesn't know that Nathaniel is part of it.
Will fate bring these two together, or has Nathaniel made the biggest mistake of his afterlife?
Here's the skinny behind Death Lies Between Us
1) The setting for Death Lies is loosely based on Pagosa Springs, Colorado. Many readers think that the novel is my hometown (that location is undisclosed), but it isn't. I have visited Pagosa Springs many times and love the town, the hot springs, and the surrounding area.
2) There is a lot of Native American mythology and folklore in Death Lies Between Us. I have my husband to thank for that inspiration. He is part Native American and even though the majority of my writing is the work of my imagination, he has been a wonderful resource for me.
3) Juliana Crowson is an herbalist in training. She works at her grandmother's herb shop, Native Naturals. Juliana's love of healing plants stems from my long time passion and study of herbal medicine.
4) The music influence in Death Lies Between Us comes from my own experiences of hanging around with musicians, going to concerts, and my obsession with Alternative Rock. I can't imagine life without music in it, and I also love to write about it.
Does music influence your life? If so, how? Or share a favorite band or album. I love hearing about new music!
If you have anything you would like to know about Death Lies Between Us, feel free to ask in the comments.
And because I am so excited, I am sharing my good news here. Book 2 in the An Angels Falls series has just been signed with Crescent Moon Press!  Release date has not been set. Stay tuned 🙂