Enter to Win an Ecopy of Death Lies Between Us and a $10 amazon gift card!
Meet Juliana Crowson from Death Lies Between Us
Morning Person? Or Night Person? How do you know?
Definitely a night person. Me and mornings are bitter enemies. It's best if we don't see each other too often.
As a child, what did you want to be when you grew up?
When I was really little I wanted to work with all the big cats at the zoo. I gave up on that idea when I realized that I couldn't set them free. Now I'm about to turn twenty and I still don't know. My Grandmother Charlotte wants me to work at her herb shop, Native Naturals, for the rest of my life. I do like working there, but I sort of see myself working outside more. A job where I get to travel would be awesome too. My brother, Jared, will let me go on tour with him and the band. So I guess I'll be a roadie for the rest of the summer. J And after that, who knows.
Where do you dream of traveling to and why?
Alaska is at the top of my list for sure. I love the mountains and the wilderness. And, Ireland because my mom's family is from there and she says it's really beautiful. Her and my dad went there for their honeymoon. I think it would be great to visit somewhere my dad really liked.
Tell us about your family.
I already mentioned my dad. His name was Wes Crowson. He died when I was nine. My grandmother, Charlotte Crowson is the greatest. She's teaching me everything she knows about medicinal plants. I'm always amazed at how much she knows. She has a way of curing people that is almost magical. And it's not just illness. She helps people with their head problems too. My mom's name is Diane. She works at the local hospital as a nurse. She's very sweet and she works A LOT. Having to raise Jared and me by herself has been pretty tough, so I help her out as much as I can. Jared is my little brother. He's not little at all, he's six foot four and loves his guitar more than anything else in the world. He's very talented and is Mr. Charismatic. He has this irresistible sparkle about him that you just can't ignore. I love him to pieces but I also feel like I have to look after him. He can be rather wild and irresponsible at times.
Who is your favorite author?
It's a tie between Edgar Allen Poe & the poet, Edna St. Vincent Millay. Check them out sometime. They're pretty inspiring.
What makes you happy?
Hiking in beautiful places when no one else is around. And, feeling the beat of live music pulsing through my veins. I adore them both equally.
What do you do to unwind and relax?
See above.
Do you have any special routines or rituals?
I could easily write an entire book with this one question but here are a few things that I always do, or don't do. I never leave shoes under a bed. It causes nightmares. I always count how many ravens I see and I only sweep the floor one room at a time. It's bad luck to cross a threshold while sweeping. Don't get me started on planting and picking herbs. Like I said, an entire book.
What is something people would be surprised to know about you?
I don't like telling people this and I can't believe I am sharing it now, but I see things that other people don't, like ghosts and angels. It really freaks me out and I try to avoid the phenomenon as much as possible. Unfortunately, I have run-ins with the dead that I can't escape. Let me just say that life and the afterlife have been really complicated lately.
About Death Lies Between Us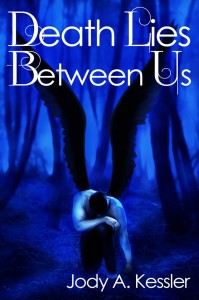 Saving the life of someone you love should not be the worst thing you have ever done, unless you are an Angel of Death.
Disgruntled with his position in the afterlife and conflicted by his feelings toward his new client, Nathaniel Evans forgoes the rules and saves nineteen year old Juliana Crowson from being hopelessly stuck in Forge Creek. This alters Juliana's destiny and she finds herself in a series of near death accidents.
In the mountains of Colorado, Nathaniel comforts Juliana as she struggles to understand her paranormal abilities while coping with her brother's drug addiction. When an ill-tempered Native American Shaman teaches her the difference between ghosts and place memories, she decides she wants nothing to do with the supernatural world. Too bad she doesn't know that Nathaniel is part of it.
Will fate bring these two together, or has Nathaniel made the biggest mistake of his afterlife?