Excerpt & Giveaway
A short excerpt to go with this $10 amazon gift card giveaway. Enter below or click on the link to read more about Juliana Crowson, the main character, in Death Lies Between Us.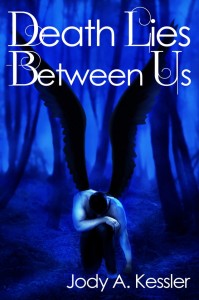 "Juliana?" I don't respond. I can't face anyone.
"Can I sit with you?"
I hug my knees into my chest with my face buried in my folded arms. I mumble into the pit of my lap. "Are you here to end my misery?"
"Not yet."
It's an odd answer but then again so was the question. "Then, please leave."
"I'm sorry. I shouldn't have come, but neither can I go."
I turn my face, taking in the crisp air and digest his unusual answers. There are so many things that have happened tonight that don't make any sense. Why would one more confusing sentiment make any difference?
Loneliness wraps around me, holding me in a cool embrace. I break its grip by saying, "It goes on the list, you know?" I speak into the dark. No movement or sound gives away his location but I can feel him close by. The low thumping of Blue Nouveau's drums is the only sound breaking the stillness of the forest.
The caress of his voice brushes my ear. "Which list are you referring to?"
"Our list — things that are inexplicable."
"Which deficiency of mankind are we adding tonight?"
"Lying to someone you love." My voice is flat but the tear leaking from my eye gives away my true feelings.
"We can put that one on the top of the list," he says.
A gentle hand surprises me as it wraps gently around my swollen ankle and finds a comfortable hold. The warmth penetrates through the sore muscles like a mild current of electricity.
You can read more at Laurie's Thoughts and Reviews – Paranormal Features Laurie has asked me to join her for a character interview and Giveaway. Enter to win over there or right here. One lucky person will win an E-copy of Death Lies Between Us and a $10 Amazon gift card!  This giveaway will run from May12 – June 11
a Rafflecopter giveaway