Welcome! The mountains of Colorado have so much to offer when it comes to outdoor recreation. Make sure to comment and enter the rafflecopter for a chance to win a Kindle Paperwhite, $25 amazon gift card, and an awesome swag pack.
Today I have a special guest visiting and sharing what she likes the best about Colorado summers.
Welcome Juliana Crowson. Tell us a little about how your summer is going so far.
Thanks for wanting to chat with me. I don't think you would believe me if I told you everything that has been happening to me this summer. Truthfully, I'm not sure I believe it yet. It's been kinda freaky actually. So can I skip this question for right now and come back to it later?
Sure. That's not a problem.
So, other than the "freaky" parts, what is your favorite thing about summer in the mountains?
Summer at 7100 feet is beautiful! We have a really long winters here, which is great, especially if you like the snow, but summer is amazing. The long days of sunshine are perfect for taking off into the mountains for an all day hike or jumping in the car and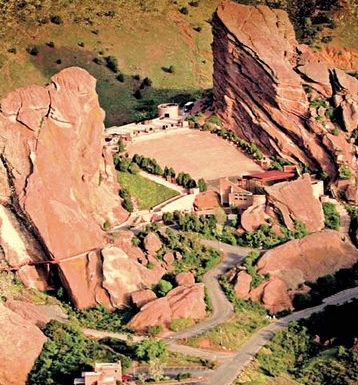 cruising across state to see an outdoor concert. There are a few great places for outdoor shows, but Red Rocks is definitely the best. It is an amazing natural amphitheater surrounded by huge red rock walls. The acoustics are unbelievable. It'll blow your mind. I promise you.
Other than hiking and going to concerts, what other activities do you like to do in the Colorado summer?
Rock climbing is notable. When I can get my brother, Jared, to put his guitar down for a few hours, we have so much fun scaling rock walls. Other than that, I love wildcrafting for herbs and camping. Floating down the river on inner tubes is definitely at the top of my list of summer fun. And, last but not least, going to The Great Sand Dunes National Park. If you haven't been there, it is really cool. You can camp, sled on the dunes, and play in the river. A lot of my favorite activities in one place. The mountains near to the Sand Dunes are great for wildcrafting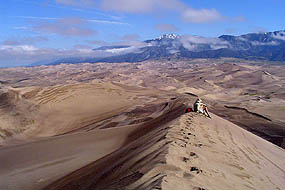 too.
Tell me about wildcrafting. I'm not familiar with that term. What is it and why do you do it?
Wildcrafting is simply finding and harvesting medicinal and edible plants in their natural or "wild" habitat. I do it because I love it. I've been working in my grandmother's herb shop since I was 10 years old and she has taught me so much about herbs and medicinal plants.  It's like finding treasure. Then I take the herbs to the shop and dry them out or make them into a tincture, salve, or encapsulate them. It's been a fascinating and useful hobby.
You get to go out into the wild and harvest plants. That doesn't sound too terrible. Tell me, do you have a favorite summer wildflower?
They're all my favorite. I guess if I had to choose, I really like the Forget-me-not's, penstemons, delphiniums, and gentians. Can you tell I like purples and blues? ThePulsatilla– which has a lot of names like Pasqueflower and Prairie Crocus – should get a mention here as well because once these little purple flowers bloom, it means that winter is over and that always makes me happy.
How about a medicinal plant?
You're making this interview so hard for me – not really – I'm only kidding. There are many that I couldn't live without. Wild roses, Skullcap (Scutellaria), and mullein are top the list. I adore all the different types of mint. I also love wood betony for its sedative and nervine properties. Medicinal plants are magical; you just have to know how to use their magic.
Thank you, Juliana for putting up with my questions. You've really made me want to spend a lot more time in the mountains.
Now that we're a little familiar with each other, can I ask what have you been up to that has you so "freaked" out?
It's not as if I wanted any of these things to happen to me. The shock and disappointment about Jared was enough to ruin my summer, but all the other stuff just royally sucks.
Care to elaborate?
I'm not very good at lying so I may as well tell you the truth. I saw place memories at a haunted castle. They look like ghosts but they are more like an imprint from the past because they don't respond to anything or anyone in the present. Then after the place memory encounter, I started seeing ghosts and spirits for real. It scares the #@*&! out of me. They talk to me and this one fiendish ghost even tried to attack me. I met this incredibly good looking and thoughtful guy and it turns out he isn't alive either. So yeah, this summer is turning out to be the most memorable one of my life. I keep hoping I can get back to hiking and playing with herbs before I have to return to college, but it isn't looking promising.
Juliana Crowson lives with her brother and mom in Colorado. She is the main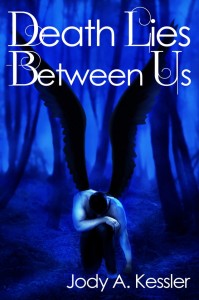 character in Death Lies Between Us, a New Adult Paranormal Romance written by  Jody A. Kessler.  
Comment on this blog to WIN an E-Copy of Death Lies Between US, a book charm key chain, and a signed trading card. (This giveaway is separate from the rafflecopter) Good luck!
Death Lies Between Us is the 1st book in the, An Angel Falls series. Book 2, Angel Dreams, is due for release in early 2014.
Stop by all the other contributing authors and bloggers and find out what summer fun everyone is up to:
                                    Shannon Eckrich                     Katie O'Sullivan
                                    Lindsey R. Loucks                  Sasha Summers
                                   Wendy S. Russo                       Christy Trujillo
                                   Constance Phillips                   Kate Evangelista
                                   Jody A Kessler (You're here)   Danielle DeVor
Kristine R. You Won an E-Copy of Death Lies Between Us, a book charm keychain and a signed trading card! Congratulations.