Celebrating my one year anniversary release of Death Lies Between Us
 
Join me for a Facebook party March 18, 2014  8-10 pm Eastern
Win ebooks, paperbacks, book swag & more!
Party page link: Here
Three angel books by three fantastic authors! How could you go wrong? We would be sincerely honored if you would join our celebration.
Our E-novels will also be on sale for $2.99 on amazon for a limited time.
And make sure to enter the rafflecopter for a chance to win a 6″ Kindle with a 3 pack of ebooks!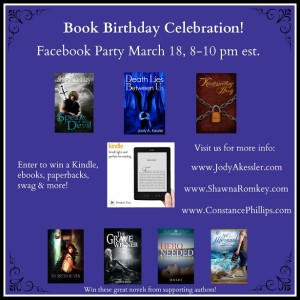 And… if you're waiting for book 2 in the, An Angel Falls series, Angel Dreams, I promise it's coming. I will announce the release date as soon as I know.
Or, you can sign up for my newsletter and I will send you release dates and other important book related news straight to your email.  Just click on my newsletter page and fill in the form.
(p.s. I will never share your email or personal information.)