I had the pleasure of reading Katie O'Sullivan's newest release, My Kind of Crazy, and thoroughly enjoyed it. I recommend this novel to anyone who enjoys puppies, beach reads, or sweet romance.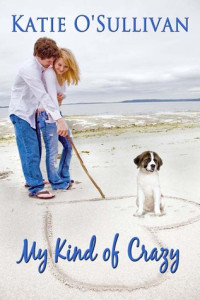 Well Written, Sweet, & Entertaining
Kendall Roarke's life is already hectic as she works day and night building her new business as a wedding coordinator and venue hostess at her bed and breakfast. When she volunteers to foster a trouble-making puppy and keeps running into the same hot guy on the Cape, she quickly gets entangled into a new "kind of crazy" lifestyle. Throw in a few well-meaning friends, a snotty uptight neighbor, and an ex-husband that deserves a good throttling and you have a whirlwind romance with a disaster waiting to happen around every corner.
My Kind of Crazy is a sweet contemporary romance about two divorcees discovering love and trust in one another as they build a new relationship on Cape Cod. Complications of family and past relationships woven into the story build a strong plot and entertaining characters who are full of depth.
This story is well written and was hard for me to put down. It is entertaining in every way. A great setting, clear writing, and a believable plot with plenty of intrigue and suspense keeps the reader engaged from beginning to end. Putting all the technical excellence aside, who couldn't fall in love with a strong heroine, a sexy vet, and a lovable, gigantic puppy named Midget?
Find out more
On Kindle
On Goodreads
(Author image and information from Goodreads)
Katie O'Sullivan lives with her family and big dogs next to the ocean on Cape Cod, drinking way too much coffee and inventing new excuses not to dust. 


She writes YA and romantic suspense novels, as well as working as an editor and magazine columnist. 

Her debut YA novel, SON OF A MERMAID, made a big splash in the summer of 2013. The next book in the series will be released in May 2014. She hopes BLOOD OF A MERMAID will engage young readers with a Cape Cod tale of a boy who discovers both his roots and his destiny far below the waters of Nantucket Sound.

Her new contemporary romance, MY KIND OF CRAZY, is available now on Kindle from The Wild Rose Press, and will have its worldwide release in July 2014.

Find Katie online:
Follow her Blog – http://katieosullivan.blogspot.com
Friend her on Facebook – http://www.facebook.com/kt.osullivan
Find her on Twitter – https://twitter.com/OkatieO
Check out her website at http://www.katie-osullivan.com