Well, it's that time of year. Conferences are in full swing and awards are being given to outstanding authors and amazing novels. RomCon has its own awards: The Readers' Crown. And, guess what? Death Lies Between Us is up for Best First Book & best Paranormal Romance!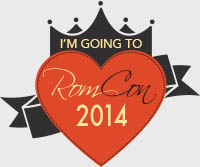 I suppose I might be a little excited – *wink*.  This is yet another first for me in the publishing world and wow, I am a humbled author. There are countless ups and downs in this profession, let me tell you, but the news that my first novel made it to the finalist list was a bright and shining career moment when I really needed one.
So, I signed up for RomCon at the last minute after cancelling plans to be out of state and finding a babysitter who is willing to stay with my boy for more hours than anyone should ever have to ask of their sitter.
I hope to see some of you on Friday 20th! (I will only be attending one day this year) The book signing will be from 7-8:30pm Friday night & is open to the public!
Where is this happening? Glad you asked…Crowne Plaza, Denver. There are so many amazing authors signing books this year. You can find out all the details at RomCon.com 
There are still some fan tickets left and the book signings are free!

I will have limited paperback copies to sign, so if you can bring your own copy, that would be handy 🙂 Thanks & I hope to see you next Friday!
Oh, and wish my book luck! If I win, my prize will be to attend RomCon 2015! Plus a bunch of other great perks. I can't express how grateful I am to the readers who rated my book. A million thanks wouldn't be enough!   Cheers,     Jody