With the new year comes many wonderful and exciting things! First up is the brand new cover art for Death Lies Between Us! What do you think? Stay tuned for more book news as the month progresses, including giveaways, parties, and more book releases!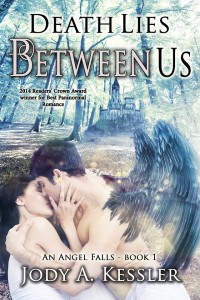 Death Lies Between Us is a new adult paranormal romance and winner of the Readers' Crown Award for Best Paranormal Romance in 2014. This is book one in the An Angel Falls series.
On the back cover:
Saving the life of someone you love should not be the worst thing you have ever done, unless you're an Angel of Death.
Frustrated with his position as an angel, Nathaniel Evans casts aside the rules of the afterlife and rescues nineteen-year-old Juliana Crowson from freezing to death. His inability to watch Juliana suffer causes a sequence of deadly accidents, and he soon becomes her constant protector.
In the mountains of Colorado, Nathaniel comforts Juliana as she struggles to understand her paranormal abilities while coping with her guitar-playing brother's recently exposed secrets. When an ill-tempered Native American shaman teaches Juliana the difference between ghosts and place memories, she decides she wants nothing to do with the supernatural world. Too bad she doesn't know that Nathaniel is part of it.
Will fate allow them to be together, or has Nathaniel made the biggest mistake of his afterlife?
More information and purchase links for the book can be found here. Book two, Angel Dreams is set for release this January!
About the Author:
When Jody isn't navigating the terrain of her imagination and writing it down, she can be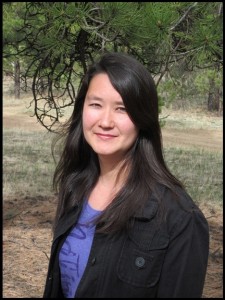 found exploring the wilderness of Colorado with her family, or in the kitchen baking cookies & brownies – and then trying not to eat them all. She's passionate about continuing to learn and reads anything and everything that catches her interest. Jody is a full time mom, a Reiki Master, and has taught Hatha yoga for over a decade.
Angel Dreams, book 2 in the An Angel Falls series is due for release on January 15, 2015. Two more novels will complete the series. She is currently working on a historical time travel series set in the Blackfoot Nation during the 1860's. The first book in the series, The Night Medicine, will be published soon.
Feel free to connect with me on Facebook or on Twitter