Heart of the Secret is here as part of the Magical Weddings box set ~ Coming June 16th! Available for pre-order now.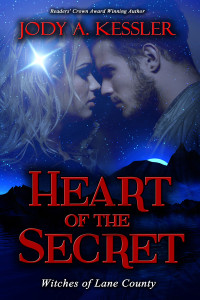 On the back cover
Aspen Morgan is an extraordinary, beautiful, and talented witch with the power to control animals and earth magic. She also deeply desires to marry Rook Avesbury. Unfortunately, Aspen knows that being a Morgan means she is destined to a life of solitude. The Morgans of Lane County don't get married, they don't explain why, and their secret always dies with them.
 
While studying the stars along the northwest coast, Rook, a handsome and charming wizard from the British Isles, falls in love with the captivating Aspen Morgan. After seven blissful months together, Rook is ready to spend forever with her.

Will the Morgan family curse be the end of Rook and Aspen, or will she find a way to reveal the deadly secrets of an enchanted journal and break the five hundred-year-old spell that is preventing their happily ever after?
Cover art by Laura Gordon at The Book Cover Machine
About the Magical Weddings box set.

Whether real or only in the hearts of the bride and groom, the magic of weddings is undeniable. And irresistible! As these 15 enchanting happily-ever-afters by bestselling and award-winning authors prove.

From sweet to spicy, the romances bundled into this set cross time and unite hearts, cast spells of laughter, battle wedding jitters and fight back tears, while weaving love's hopeful magic throughout 1400 pages.

This set of enchanting romances is available for pre-order now for only $0.99 and can be delivered to your device on release day, June 16th, 2015!
Amazon: http://amzn.to/1RbM7Ze
Kobo: http://bit.ly/1SrS6us
Ibooks: https://itunes.apple.com/us/book/id997544460?mt=11&ign-mpt=uo%3D6
Google Play: http://bit.ly/1emycBp
Please join us for a cover reveal extravaganza Facebook party.Giveaways start at 1:00 pm EST on Monday, May 25th on Facebook. 

We have an even bigger party happening on release day, June 16th! I hope you will stop by and enter to win some fantastic prizes, including a $50 amazon gift card, bouquet of flowers delivered to your door, jewelry, $20, $10, $10 amazon gift cards, signed paperbacks, and much more! If Memorial Day just doesn't fit into your schedule please join us on Facebook in June.
In other news:
I now have a YouTube channel. Check out my book trailers here: YouTube 

The Magical Weddings trailer will be ready to view by 9 p.m. est Monday, May 25th. Don't miss it – it's gorgeous!

Thank you for you interest in my latest works.
Grab a copy of The Night Medicine while it's still on sale for only $0.99…and happy reading!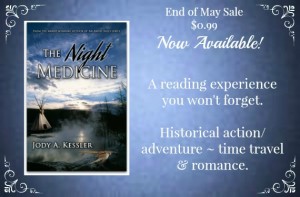 Cheers,
Jody