I had the great pleasure of reading and reviewing an advance copy of Crazy About You from author, Katie O'Sullivan. Crazy About You is a full length contemporary romance and a brand new release – July 24, 2015. My full review is below, but first, let's find out a little more about the novel.
"Drawn together by a dead cell phone, it's the dead body that changes everything."
On the Back Cover
Climate scientist Chase Anderson races from one project to the next, unwilling to slow down in his quest to save the world's oceans. He has no time for family or relationships until he crashes into an impetuous blonde with a quirky sense of humor. One sizzling kiss makes him seriously reevaluate his priorities. And his sanity.
Emma Maguire left her small Cape Cod hometown years ago, seeking the fast pace and anonymity of New York City. She's not sure what she's searching for, but when a family crisis brings her home to Provincetown she's caught in a crazy tangle of half-truths and mistaken identity… and falls for the handsome stranger who broke her cell phone.
Will untangling the web of lies drive them crazy, or lead to something even crazier – like love?
Purchase Links:  AMAZON | THE WILD ROSE PRESS | BARNES & NOBLE
My Review:
Sexy, Smart, Fun Summer Romance!
Crazy About You is another fantastic and well written romance novel from Katie O'Sullivan and is one of my favorite books of the year so far. In my humble opinion, this novel is probably Ms. O'Sullivan's best work yet! (this is the 4th book I've read from Ms. O'Sullivan – I'm a big fan of her books in case you couldn't tell.)

Emma and Chase have a history of past relationships that leaves them a little wary about falling in love but their attraction to one another trumps any and all misgivings. While trying to figure out their feelings for one another they become entangled in a murder investigation, an excessive amount of mafia related mayhem, and a possible environmental catastrophe.

I was rooting for Emma and Chase from page one. The main characters are full of depth and I found them extremely likeable. The setting is descriptive and charming and felt like I walked right into Cape Cod and Provincetown. The novel has quite the cast of memorable characters including Todd, Chase's young, energetic – and often hung over intern – and Tony, Emma's close friend and a hunky Italian New Yorker.
Crazy About You is a fun, romantic and sexy, captivating story that touches on environmental issues but also throws in some action-packed suspense that keeps the reader on edge. The writing is clear, intelligent, and sprinkled with beautiful prose – all things that I really appreciate. I couldn't put this book down!

Ms. O'Sullivan is a talented author and this novel really stands out as a 5 star romance with a sweet happily ever after!
~ Would you like to read an excerpt from the novel? ~
A blinding smile lit her face, and she waved with enthusiasm. His heart skipped a few beats as his blood all went lower down.
She beelined to the table, calling his name. "Chase? Chase! It's so good to see you again! Thanks so much for inviting me to lunch!"
He found himself rising to greet her for the second time inside an hour. Instead of sitting, she came to where he stood and wrapped her arms around his neck. She planted an exaggerated kiss on his cheek, like the one he'd envied Tony for the prior day, those soft red lips wet on his skin. His arms slipped around her waist and his stomach clenched hard, inappropriate thoughts racing through his head at breakneck speed, leaving him dazed. Staring down, he saw similar confusion mirrored in Emma's eyes, as if she felt it too, that electric current running fast and furious between them at every point where their bodies connected. And she wasn't letting go.
About the Author: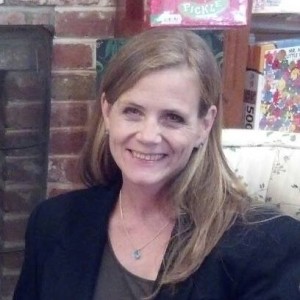 Katie O'Sullivan lives with her family and big dogs on Cape Cod, drinking way too much coffee and inventing new excuses not to dust. Living next to the Atlantic influences everything she writes, including her YA series about the mermaids who live near her beach. A recovering English major, she earned her degree at Colgate University and now writes romance and adventure for young adults, and something steamier for the young at heart.
Katie O'Sullivan can be found all over the interwebs:
Website: www.katie-osullivan.com Blog: http://katieosullivan.blogspot.com
Facebook: https://www.facebook.com/AuthorKatieOSullivan
Twitter: https://twitter.com/OkatieO
Goodreads: https://www.goodreads.com/author/show/3326303.Katie_O_Sullivan
Amazon Author Page: http://www.amazon.com/author/katieosullivan
*Thanks you for stopping by & happy reading!
Jody
"Every great love starts with a great story…" 
~ Nicholas Sparks