RomCon 2015 is here already!
Here's a sneak peek at the one of the prizes being given away this coming weekend. (There's even more goodies inside the bag.)
If you can't make it for the entire weekend, you can always stop by for the book signing on Saturday evening. I have handmade key chains to giveaway! First come, first serve. Join me and 50 other authors for a fun book signing event: http://www.romcon.com/

Below is what going to conference really looks like ~ books, luggage, book signing materials, swag and prizes! What a mess – but it's an organized mess believe it or not. And, wow, this doesn't even include my clothes for the weekend. #AuthorLife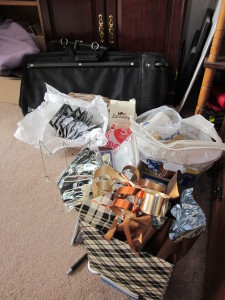 I hope some of you will join me – and the rest of the wonderful authors and organizers – for RomCon 2015! Congratulations to whoever wins my door prize. I hope you enjoy the gift bag!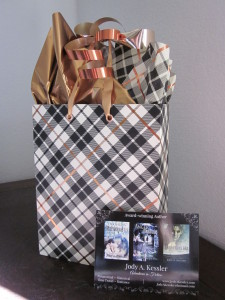 RomCon will be in Denver, Colorado at the Renaissance Denver, 3801 Quebec St. Sept. 25-27th. (Saturday Book Signing ~ 3:30- 5:30 pm.) Please check the official RomCon website for more details if you are coming.
Cheers & Happy Reading,
Jody
"You know you're in love when you can't fall asleep because reality is finally better than your dreams." 
~ 
Dr. Seuss