Unwrapping Treasure, book one in my new Granite Lake Romance series, is available now.
A contemporary romance novella (approx. 75 pages) and it's also a prequel to Chasing Treasure – a full length novel coming next year. Don't worry, this novella is a complete story.
And, I have good news for you. There's a 3rd novel planned in the Granite Lake Romance series — but more to come on that later. Let me share a little more about Unwrapping Treasure.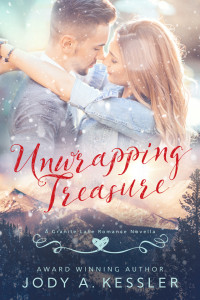 Paramedics Treasure and Bodie never imagined their Christmas Eve nightshift could turn into a dangerous and sexy holiday escapade that changes their lives forever.
Paramedics Treasure and Bodie arrive on scene at a routine emergency call and find an outrageous holiday party, a Christmas tree on fire, and an innocent life to save that nearly cost them their lives.
After escaping the chaos of work, they decide to spend their Christmas vacation together at a secluded lakeside cabin deep in the heart of the Sierra Nevada Mountains. With the snow falling soft, a warm fire in the hearth, and fresh cookies baking in the oven, an innocent holiday getaway quickly turns into a night of spontaneous passion with no strings attached.
Will Treasure and Bodie's hasty decision to spend the night tumbling between the sheets – and on the table, and the floor – prove disastrous or will their relationship develop into something neither of them saw coming?
Read An Excerpt
Treasure Vogel's day started with the scent of him. Masculine and memorable. The smell lingered in the bed, on her pillow, and in her mind. It reminded her of the shortbread cookies and hot spiced buttered rum cider they'd shared before things had taken a turn and they ended up in bed together. Bodie shocked her with his sweetness, but even more so with his raw hunger for her – and not just because of her cookies.
The log cabin she'd rented for the holiday weekend felt like a cozy home away from home. Bodie rekindled the fire and the ambient warmth radiated across the studio-style cabin to the bed where she lay. She sighed with contentment when she smelled the coffee and glanced over to see the pot half-full on the warmer and two mugs waiting to be filled.
Treasure eased herself up and noticed her Christmas present from Bodie sitting on the nightstand next to a glass of water. Reaching over, she lifted the wrapped box and cupped it in her hands with gratitude. The small present would be the only one she would open this Christmas. Most days, it didn't bother her that she'd woven her life around solitude and fleeting relationships, but she appreciated Bodie remembering her this year. She snuggled deeper into the pillows and pulled the comforter up to her chin. She wanted to savor the moment because she'd learned from a young age that part of the gift was the anticipation of what lay hidden inside…
Add the book to your Goodreads Shelf: https://www.goodreads.com/book/show/27413396-unwrapping-treasure
Or purchase for .99 cents:
*Amazon US:  http://amzn.to/1NgLb5X
*Amazon UK:  http://amzn.to/1MzEKMz
*Amazon CA:  http://amzn.to/1MzEKMJ
*Amazon AU:  http://bit.ly/1MzEL3c
Help me celebrate my new release by entering to win a $10 amazon gift card: Contest runs Dec.3 – 7th
a Rafflecopter giveaway
Thank you for stopping by!
As always ~
Happy reading,
Jody A Kessler
"You've gotta dance like there's nobody watching,
Love like you'll never be hurt,
Sing like there's nobody listening,
And live like it's heaven on earth." ~William W. Purkey