I'd like to welcome my friend and fellow author, Jenn Nixon. She's celebrating her brand new release, Crystal Casters – Awakenings.
Let's find out more about this SciFi Parnormal Romance ~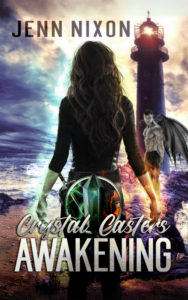 About the book
When Cyndra Raine inherits her grandmother's crystal, she inadvertently awakens a lethal elemental force she doesn't understand. Panicked and desperate, she flees the safety of her village, determined to find answers only to run into a man named Rune with the same abilities and questions.
Zorin has spent twenty-five years soaring over his island waiting for something, anything, to change. After sensing caster power he can't ignore, he leaves the island and finds two casters under attack on the mainland. He's shocked to learn Cyndra and Rune are ignorant of their lineage and the war that destroyed the world.
Intrigued by Cyndra and the immense power she possesses, Zorin promises her the truth about the past in exchange for her help. Inexplicably drawn to the winged man, Cyndra agrees to his terms and together they begin a journey that tests everything she knows about her world and discovers a connection to Zorin more profound than any she's ever imagined.
Release day – June 28th
Available on Amazon
Read a short excerpt from the novel:
Zorin felt fingers on his wing and spun around, clasping the man's wrist, stunned at the alarm on his face. "You see me?"
The man nodded and glanced back at the woman, who mimicked the gesture.
This caster was as stronger as the woman and his power flooded the gap between them. Using every measure of control he had not to absorb it, Zorin grunted, shoved the man backward, and tucked his wings close to his shoulders. Shocked and grateful they had the ability to see him, yet curious what they actually saw, Zorin opened the mental crystal bond and frowned as the word crossed the man's mind.
"I'm not a gargoyle," Zorin spat, huffing and clenching his jaw to calm down so he wouldn't scare them further. The wide-eyed woman, dressed like a true survivor, held a lonely sai in her shaking hand, determined to protect herself. A quality he admired. He met her eyes. "Where did the wraiths come from?"
"The, uh, crazy lady," she began, glancing over toward the bushes and furrowing her brow. "They were right there." ….

About the Author
Jenn Nixon's love of writing started the year she received her first diary and Nancy Drew novel. Throughout her teenage years, she kept a diary of her personal thoughts and feelings but graduated from Nancy Drew to other mystery suspense novels. Jenn often adds a thriller and suspense element to anything she writes be it Romance, Science Fiction, or Fantasy. When not writing, she spends her time reading, observing pop culture, playing with her two dogs, and working on various charitable projects in her home state of New Jersey.
You can find Jenn Nixon all over the interwebs:
Website: www.jennnixon.com
Facebook: facebook.com/JennNixonAuthor
Newsletter: https://www.subscribepage.com/l8m1g3
http://www.goodreads.com/author/show/712429.Jenn_Nixon
http://www.amazon.com/Jenn-Nixon/e/B002BLNBBQ/
~*~*~*~
Thanks for stopping by! I hope you're reading some fantastic novels and having a wonderful summer.
Cheers and happy reading,
Jody
"The Guide says there is an art to flying", said Ford, "or rather a knack. The knack lies in learning how to throw yourself at the ground and miss."  ― Douglas Adams