Hello again,
I have some fantastic news to share with you + book deals and new giveaways.
Divining Elise – the new Granite Lake Romance is available on Amazon!
Early readers are leaving positive reviews about the new book and the Everett brothers are winning the hearts of the readers. I hope you'll give Divining Elise a chance and let me know what you think of Rob and Elise.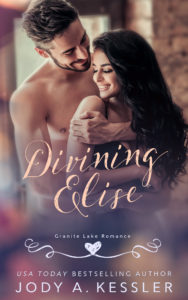 About the Book 
Elise Martinez wished her date with destiny didn't include being run off the road by the most caring, handsome, and intelligent man she'd ever met.
Moving to Granite Lake to manage a bookstore and coffee shop meant Elise could finally leave her haunted past behind, but being a psychic mom to a deaf child has its benefits and downfalls—and her guarded heart isn't ready for a new romance.
Rob Everett never imagined giving up corporate law to open a brewery with his brothers in Granite Lake would begin with a car accident and the arrival of a surprise baby.
As if being a single dad and starting a new business weren't challenging enough, Rob can't get the beautiful, mysterious, and feisty bookstore manager out of his mind.
Elise quickly captures Rob's heart—but falling in love is a complicated, sexy, and emotional enterprise.
Mix in a baby, a haunted brewery, craft beer, and a dangerous ex-husband into this recipe of love and Rob and Elise's future isn't as easily divined as the fates would have foretold.
**Steamy Contemporary Romance intended for 18+ for mature language and sexual content.
**Full length novel with a happily ever after.
Available on: Amazon
Included in Kindle Unlimited ~ Paperback coming soon.
Read a short excerpt from the novel:
Elise rose from the couch and disappeared from the room. When she returned, she handed a paperback book to Rob.
"I bought this for you."
He looked at the cover front and back. "I haven't read this author."
"He's one of my favorite sci-fi authors of all time. The new book in the series came out yesterday." She held up another book for Rob to see. "If you like it then I'll bring you number two when you're ready."
"Are we having a reading date, Elise?"
"Is it too nerdy for you?"
"No. I've just never read with someone before," he said.
"Well then you're really missing out."
"I guess I've been missing out on a lot of good things. I've never had homemade chimichangas or been whupped at the Memory game by a munchkin, either."
"We're pretty awesome like that." Elise sat on the couch next to her son, Colton, who was already fast asleep. "Don't tell anyone. I don't want the word to get around about us."
"I wouldn't let this secret out. It's too good to share."
One eyebrow rose and she opened her book. Rob likewise began reading and to his surprise, he was instantly sucked into the story. After the first few chapters, he realized Maisie needed her nighttime bottle. He set the book on the coffee table to take care of his daughter. The sci-fi author was good. Really good. He could have kept turning pages for hours if he didn't have responsibilities to take care of. After putting the baby in bed, he lifted Colton from the couch and carried him to the guest room. Elise took care of Colton, then joined him in the living room. The novels were forgotten and all Rob could focus on was Elise.
She took his hand and led him to his bedroom. Sixty-nine became Rob's new favorite number. Elise was insatiable. Rob couldn't believe how incredible their chemistry was. There was no ebb to their flow. He only wanted more of her.
Divining Elise is book 4 in the Granite Lake Romance series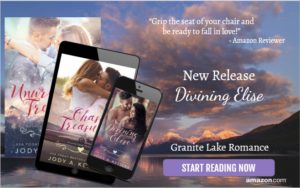 ~*~*~*~
And if you're looking for more wonderful books to read + fun giveaways to enter, check this out:
Fill your e-reader with some fabulous $0.99 cent ebooks?
SHOP OUR BEACH READS BOOK FAIR
All books are less than a buck! + GIVEAWAYS DAILY!
Whether you're lucky enough to be heading off for a fabulous vacay, or stuck at your desk only dreaming of beachy bliss, make a date with a fantastic read this summer. We have over 50 ebooks on sale for 99 cents. Mysteries, thrillers, romance, romantic suspense, paranormal romance, fantasy, science fiction, whatever your genre, we have a book you'll love!
Plus, every 24 hours, we're putting up a new giveaway. Check in daily for a chance to win an Amazon gift card, ebook prize pack, or other great prizes for book lovers. Ends on June 18th.
ENTER GIVEAWAY HERE: BookWrapt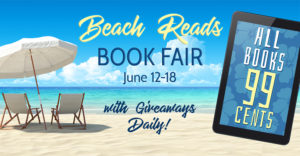 WAIT —> There's more –>
Are you looking for culturally diverse novels?
I joined the Loving Day Book Promotion because the main character in Divining Elise is of Hispanic descent and her son is deaf. Personally, I love reading (and writing) about other cultures and people of all walks of life. In my humble opinion, diversity can make the characters more interesting and fun to read!
So…. Whether or not you read through Kindle Unlimited, you won't want to miss the awesome collection of books featuring diverse characters. With multiple genres to browse, you're sure to find something you love! And don't forget to enter the giveaway where you can win a Kindle Fire.  CLICK HERE TO BROWSE DIVERSE BOOKS AND ENTER TO WIN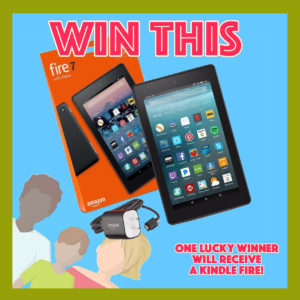 Thank you for taking a moment of your day to catch up on the latest book news. And good luck in the giveaways.
Cheers and happy reading!
Jody A. Kessler