Welcome to September & Thanks for being here!
It's been a little while since I posted anything new. Summer is a busy time filled with a lot of reading and spending time with my family. However, I somehow managed to finish writing the new Granite Lake Romance!
Although, (sad news) I do not have a definite release date and I am waiting on the cover art. So, the book is done, but there is a long list of steps ahead to get Detecting Autumn published and in front of your lovely eyes.
In case you haven't started reading the Granite Lake Romance series, you can download a copy of book one – Unwrapping Treasure – for 99 pennies today. AND >>> you can also enter to win some wonderful prizes and gift cards by hopping on over to Bookwrapt. ~~> Please be aware that Unwrapping Treasure is novella length with a nice happy-for-now ending. Genre: Steamy Contemporary Romance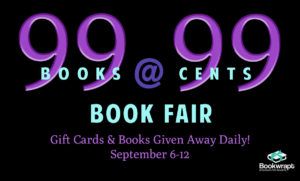 A September Special for you – 99 Books @ 99 Cents Book Fair.
Almost 100 books ON SALE in all genres, romance, sci-fi and fantasy, paranormal romance, historical romance, romantic suspense, mysteries, thrillers, and more.
Plus, check in daily for a chance to win Amazon gift cards or play instant ebook giveaways for one of 12 books being awarded to lucky winners each day.
The book sale and giveaways are located at BookWrapt – CLICK HERE 
September 6 – 12th.
There are some wonderful books by some of my favorite authors for less than a dollar. I hope you will stop by and find some fantastic new books to read.
I will have a release date for Detecting Autumn – Granite Lake Romance – book 5 soon and hopefully a new book cover to share with you as well.
Happy reading,
Jody A. Kessler
P.S.
If you signed up to receive blog posts – thank you very much! – but if you were looking for my free novella – The Call (An Angel Falls)  – and you did not receive it, it is because you need to sign up for the newsletter. – I have both.  HOWEVER – the content between the blog and newsletters are very similar. Newsletter subscribers receive the free copy of The Call and special offers such as joining my Advance Reader Team.
I'm so grateful for each and every one of you. You're welcome to join my blog and my newsletter or come and go as you please.
I can also save you some time if you missed the freebie and would like to read it. Here is the link to the FREE copy of The Call – An Angel Falls novella 
Genre: Paranormal with ghost hunting – this is a spin off from the An Angel Falls series.
Cheers. Have a great day!   ^_^