Author Notes on a Friday morning… With a happy ending!
I've been awake since stupid o'clock. This is extra difficult since I stayed up late reading a book (as I often do) and the dogs were off and on awake throughout the night.
Why the 5 a.m. wake up call?
Because today is day 1 of Winter Ski Club – I don't ski – but kidlet does and he's been awake sine 4:?? a.m. – super excited, and can hardly contain himself about hitting the slopes for the first time this year. – I always wake up to pack his lunch and help him out the door.
After making sure he has enough food to last him a week, a pair of mittens, extra gloves just in case, hand warmers, a hat, snow suit, snow boots, bottle of water, and thirty warnings about safety – plus a, "Have fun today!" – I thought to myself – "I'm going back to bed and sleeping until I ABSOLUTELY have to get up and go to my DENTIST appointment." — ugh. — Just what I want to do on my 'bonus' free day. I'd much rather be finishing my novel but the dentist appointment was already confirmed and I'M GOING, no matter how much I don't really want to. – Does anyone really want their teeth scraped and gums prodded?
While snug beneath the covers and desperately trying to shut up my thoughts and sleep – something I'd been attempting since 11 pm last night – the phone rings. It's John. He's STILL at the bus stop waiting for the activity bus. He wants me to check with the teacher about where the heck the ski bus is and why it's so late.
By the way, we have a landline here at my cabin in the middle of the Colorado wilderness… and I currently do not have caller I.D.  — The lack of caller i.d. is a minor inconvenience and an ongoing story of woe and phone company drama for another time, but I throw it in now to say, I have no idea who is calling until I pick up and say, "Hello?"  <— How very eighties of me, I know. Don't judge. I dislike cell phones anyway. And now you know how backwards and out of date John and I really are. – I'm only partially kidding.
I make the call for him, even though I suspect the bus is late because A: there's a crazy amount of fresh snow outside and it's still coming down.
And B: it's Day 1 of Winter Ski Club. Bonus, the teacher/club organizer is new this year.
But I call anyway, (I don't send a text to the teacher because no cell phone, remember?) in my dark office, because it's still stupid o'clock in the morning. I'm half dressed and getting colder by the second because I jumped out of bed to answer the phone which is in the other room. The teacher miraculously answers and says, "she's on the bus and they are about 3 minutes away from the bus stop."
Great news! I call John back. He doesn't answer. – Confession: We actually do own cell phones. Old ones. Flip phones. And we only use them when traveling. Seriously, my phone is about 12 years old, which is why I still try not to send text messages.
I call John one more time, because I JUST spoke to him but he doesn't answer again. — This is the joy of trying to use a cell phone in my area. Spotty reception at best – in a snowstorm – on his flip phone – in the dark. By this time, it's now actually starting to get light outside.
And I am really cold by this point and I should put on some pants, and socks, and probably a sweatshirt.
Needless to say, I did not go back to sleep. John arrived about two minutes after I found my pants. Yoga sweatpants, let's not get too crazy here.
AND>>>> while sitting at my desk doing admin. stuff, while caffeinating my poor sleep deprived brain, and waiting until I have to forge a path to the dentist through the worst snowstorm we've had all winter, which will take me over an hour to get there ( because of the weather and road conditions) the phone rings again.
My dental hygienist says hello and asks, "Are you coming to your appointment this morning? You can reschedule if you want to. The roads are terrible. It took me 3 times longer to get to work this morning. Everyone's canceling due to the weather."
I process her words slowly – I'm still tired and my one cup of Irish breakfast tea hasn't really made any difference. – My brain slogs along with the conversation and finally goes something like this; What? Seriously? Yes!! Of course I want stay home and work on my book all day while I watch the snow come down outside my window, and my kid is having a great day at ski club!
I play it cool and politely reschedule my appointment.
Friday for the win! Snow Days aren't just for kids!!
And now that I've shared my Friday notes, I'm off to clear the snow from my solar panels which helps keep our the batteries charged, and then finish writing Catching Kiera – Granite Lake Romance, book 6. – I also need (another) hot cup of tea or the whole pot.
In case you missed it, Detecting Autumn releases next Tuesday. I'm trying not to let my nerves take over, but I am nervous about the upcoming release. I hope you love the new book as much – or more – than I do. Also, I'll be blogging again on Tuesday with a giveaway and an excerpt from the novel.
I hope you had more sleep than I did, and if you like to ski, I've heard that the snow is awesome in Summit County.  – I took a screenshot for you. You can also google, "Ski areas in Summit County Colorado" to find out more. – but notice every ski area says, "powder"! and look at that base (summit depth)! — that's right, Kidlet is in heaven today!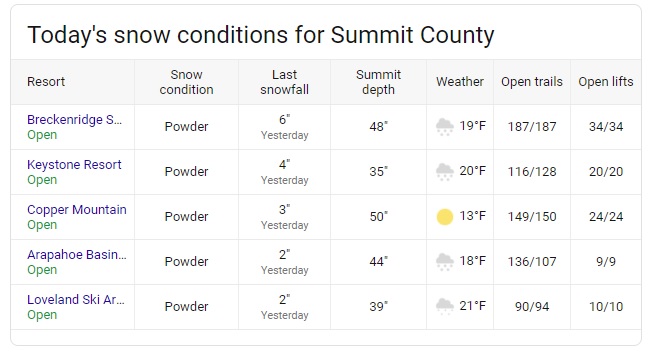 No matter what you are doing, or where you are, have a fabulous Friday and a wonderful weekend!
Stay warm out there.
Cheers,
Jody
Granite Lake Romance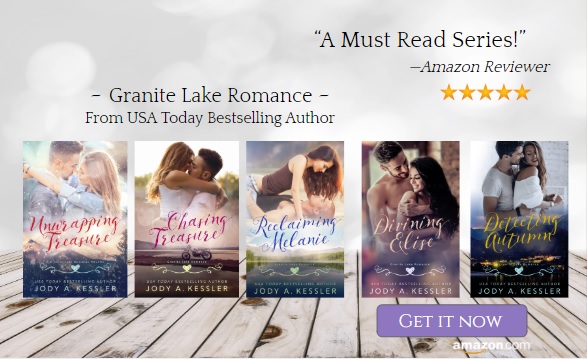 "Winter is the time for comfort, for good food and warmth, for the touch of a friendly hand and for a talk beside the fire: it is the time for home."  ― Edith Sitwell