Detecting Autumn – the new Granite Lake Romance is available today!
Release day is a wonderful and exciting experience. I'm thrilled to share this novel with you and I'm absolutely in love and laughing at Autumn and Shane's wild adventures together. These two are crazy – and maybe crazy about each other. – Keep reading for the book description and an excerpt from the novel.
Hooray! I'm also giving away a $20 Amazon gift card to celebrate!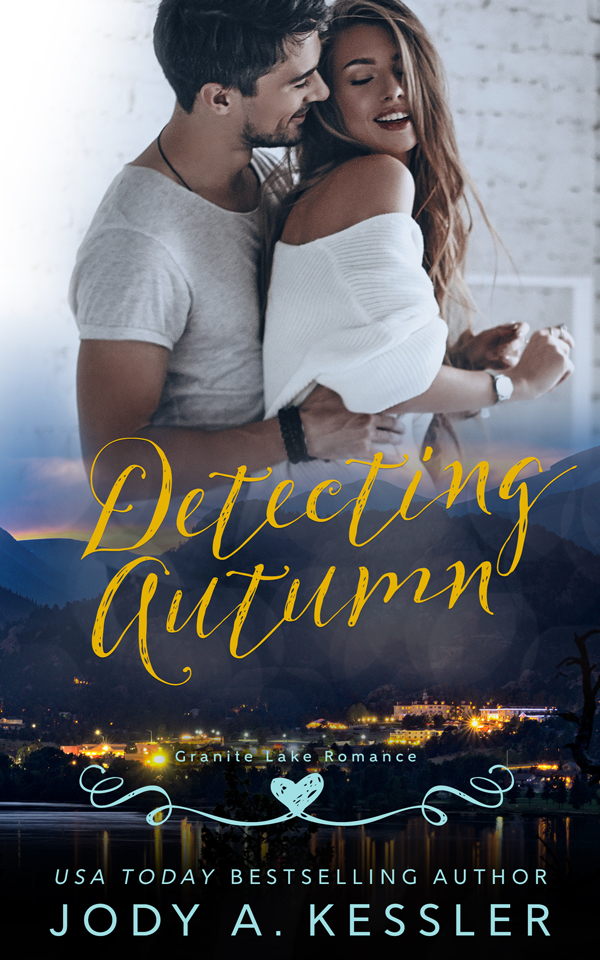 About the Book  
"All's fair in love, war, and romance novels."
Bestselling author, Autumn Alex Monroe, lives and works by her misguided credo. From wild and outrageous adventures to dangerous and sexy flings, she'll do anything in the name of book research, including dating Gabe Moretti, a well-known member of the mafia.
Confirmed bachelor and private investigator, Shane Everett, is selling his detective agency and moving to Granite Lake to open Black Bear Brewing with his brothers.
When Gabe Moretti asks Shane to investigate the stunning and eccentric author, Alex Monroe, he says, no, but blackmail and mafia persuasion convinces him to take the case.
Shane quickly learns that Alex is a witty, sexy, and secretive woman… and she needs his protection from Gabe, the sociopathic goon who claims to be her boyfriend.
After a kidnapping and a forced marriage—while dealing with Alex's bizarre sleep disorder—not to mention her multiple personas—Shane discovers that detecting Alex is exhilarating and hazardous.
…But most shocking of all, he finds that Alex's hilarious antics and unpredictability have captured his heart.
**A steamy, hilarious, and drama-packed romance with a happily ever after.
**Detecting Autumn is a stand-alone novel in the Granite Lake Romance series
Available on: Amazon
Included in Kindle Unlimited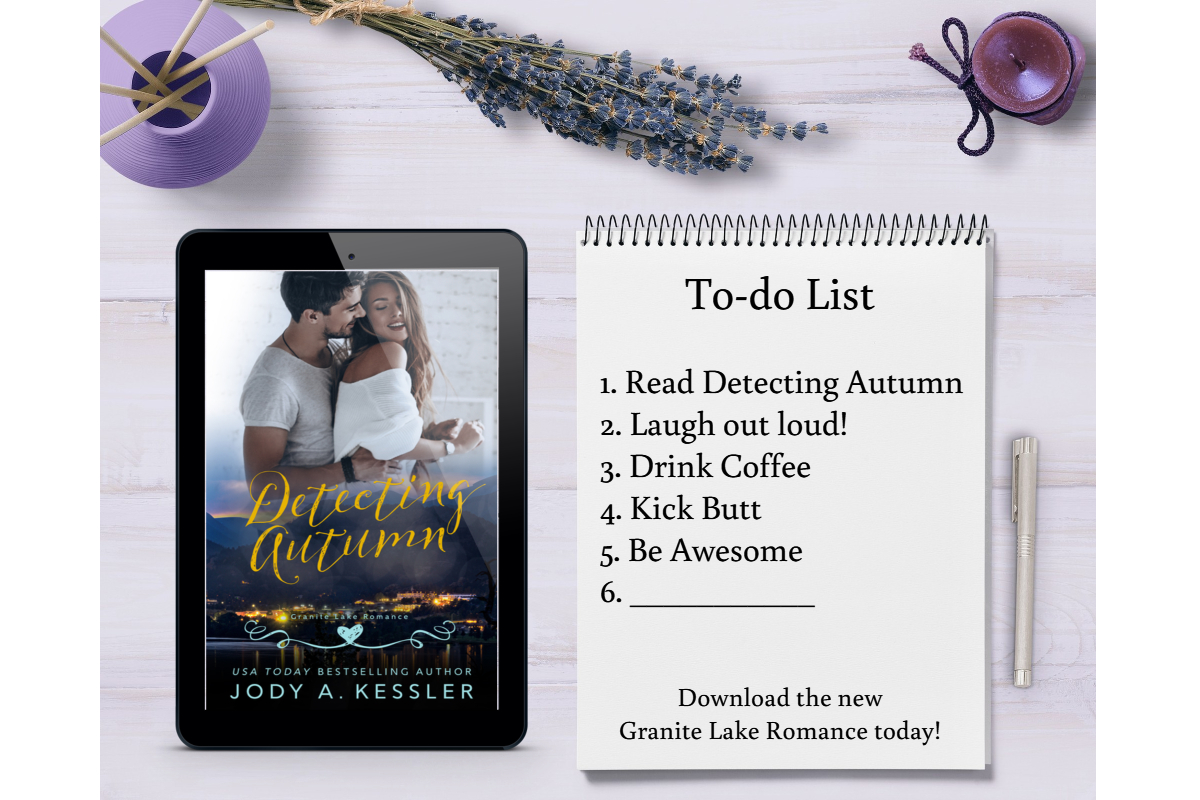 Read an excerpt from the novel:
COMBINING DRUGS, ALCOHOL, AND PARASOMNIA is a volatile cocktail in any circumstance. Throw in a good old-fashioned kidnapping, a pitch black closet, and a misogynistic psychopath, and Autumn found the pot of fool's gold at the end of a black rainbow. She groaned, rolled over, and threw up.
"Wow. That's—" The male voice shifted away from her in the dark. "That's a potent odor."
Autumn wretched again. Acid burned her esophagus and she knew she'd never drink bourbon again. Not even to save her life.
"I aim to impress." Her voice croaked like a bullfrog with laryngitis. She spat into the mess, trying to clear away the rank taste.
"You're succeeding," he said. "Autumn Alex, the girl with two names and two boyfriends."
It was Shane who spoke. She recognized his voice. Or, more like, she recognized her body's response to the appealing timbre of his voice. A tiny involuntary moan rose from her chest. How was that possible? With a raw throat, the sound came out as more of a garbled belch than a seductive whimper.
"I don't have a boyfriend—or two of them, either—you yank wanker," she said. Autumn didn't deny having two names. Actually, she currently used four names plus a corporation name, but Shane didn't need to know that right now. "How long was I out?" she asked.
"Less than an hour, I think," he said. "There's no clock in here."
Fuzzy recollections of the previous forty-eight hours slapped around inside her head as she scooted across the carpeted floor. Memories mingled with the distorted and incomprehensible dreams she'd been having and increased the churning nausea inside her stomach.
With arms outstretched, Autumn searched for anything in the absolute dark. She found smooth walls and the floor beneath her and nothing else. Autumn breathed deep, trying to clear her mind and settle the roiling upset inside her gut. Her thoughts cleared, but the sick feeling remained. She understood that Gabe Moretti was the source of her stomach clenching and overwrought nerves more so than the drug he'd slipped into her bourbon.
"It feels like I slept for hours," she said.
"No. Although, I think you're part feline. You take short naps and lash out with uncalled-for attacks. You're all teeth and claws for no reason at all," he said.
"What did I do this time?" Autumn found Shane when her fingertips brushed against his leg.
He grunted for an answer.
Autumn stopped searching their makeshift prison. "No one has ever compared me or my sleeping problems to a cat before, but I see the resemblances. I'm independent, but occasionally need the company of others. I'm athletic, but a little finicky."
"And a psychotic man-slayer," he said, interrupting her cat analogy with his own.
She sat back against the wall and laughed. Shane may not be joking, but his remarks eased the knots of tension that had taken up residence along her spine and between her brows.
"Think what you will about me, but I'm not a man-slayer," she said.
The sound he made was somewhere between another grunt or clearing his throat. Either way, she got the impression that he blamed her for their current predicament of being locked inside Gabe Moretti's secret room…
~ Want more?  Download your copy HERE
Enter to win a $20 Amazon Gift Card
Happy Release Day – Detecting Autumn!
Thank you for taking a moment out of your day to catch up on the blog and for checking out Detecting Autumn. I sincerely hope you find yourself smiling and laughing with the residents of Granite Lake.
Good luck in the giveaway!
Cheers and happy reading,
Jody A. Kessler
"Write it on your heart that every day is the best day in the year." – Ralph Waldo Emerson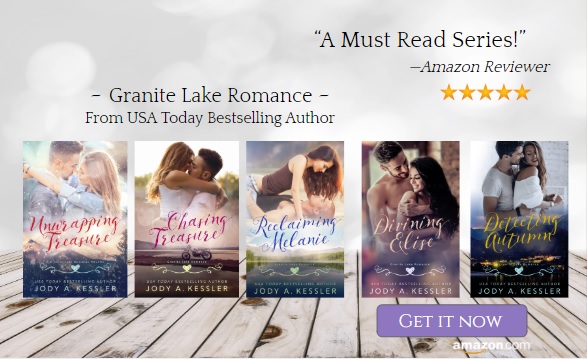 If you enjoy reading the Granite Lake Romance novels, would you please leave a review on Amazon? Reviews help authors in many ways, but they also help other readers decide which books to purchase and read. A short sentence or two is all it takes and your positive comments are greatly appreciated.  🙂  Thank you!