Hello again!
Have you been wondering about the new Granite Lake Romance novel, Catching Kiera?
Your wait is almost over! Catching Kiera will be published on Thursday, June 20th.
Here's a look at the new book cover! I adore the design, and as the author, I love how accurately the cover models represent Kiera Sawyer and Denny Masters.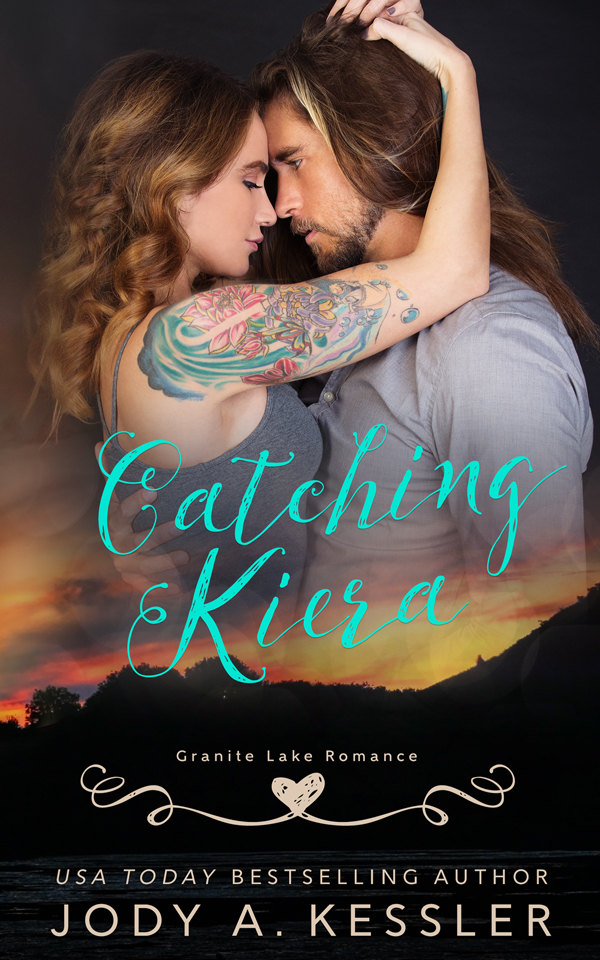 What do you think? Do you have a favorite cover from the Granite Lake Romance series? Let me know! I would love to hear your opinions and comments. <3
Pre-order your copy of Catching Kiera today – on Amazon
About the book –>
Kiera Sawyer has always been a free spirit at heart. Her wanderlust and campervan take her wherever a new adventure awaits—which is often to the next music festival.
That is until she meets Denny, a biker mechanic whose Viking good looks and bachelor status are well known in the small town of Granite Lake.
Denny Masters was born with a calling to build motorcycles. Contrary to the rumors, he's not anti-social or anti-women, but he does spend a lot of time in the garage.
That is until he meets Kiera at the grand opening party for Black Bear Brewing.
Unfortunately, it's Denny's old acquaintance, Jolene, who introduces them—and drunken shenanigans and miscommunication do not make for the start of a solid relationship.
While Denny tries to catch Kiera's attention, Jolene doesn't seem to be able to take no for an answer. Thankfully, Denny is heading to Motor and Metal Fest where he can sell bikes and get to know Kiera better.
A road trip and a music festival with a gorgeous, intriguing, and fun woman makes Denny believe the pieces of his life are finally coming together.
But Kiera isn't being totally upfront about her personal life—or her relationship with her boss, Ash Wilde, the CEO of the company.
Will Denny and Kiera stick together through a tangle of misfortunes, a love triangle Kiera never saw coming, and Jolene's stalker tendencies, or will they lose the trust, hope, and love they've found in each other?
**A drama-packed, fun, page-turning wild ride filled with heartfelt, steamy romance and traveling the world—because catching Kiera is a love worth fighting for.
**This book contains mature language and romantic scenes.
**Catching Kiera is a stand-alone novel. However, some of the characters in this book are also in the other Granite Lake Romance novels.
~ ~ ~ ~ ~ ~ ~  Exclusive Excerpt  ~ ~ ~ ~ ~ ~ ~ ~
Through the summer, Denny watched Bodie Everett and his brothers remodel and update his father's old bar, Floyd's Tavern. From day one, Denny followed their progress as the Everetts stripped and replaced the siding off the exterior, gutted the interior, worked on the roof, upgraded the deck, and replaced just about everything inside and out of the old biker bar. But the surreal moment of entering the newly renovated building hit him on a level he'd not experienced before.
He practically grew up inside this building and now, with all the changes, he hardly recognized the place. It was too bad his father hadn't come back to town for the grand reopening. His dad would have liked what the Everett brothers had done with the place. The updated interior had a rustic yet modern look about it. The beer couldn't be better, and from the appetizers he'd tasted, he was destined to become a regular customer.
Growing up with a biker father had its perks and its pitfalls. Denny appreciated his freedom to do what he wanted whenever he wanted but his childhood wasn't what most people would envy.
Too many memories cluttered his mind as he finished drinking a dark stout while listening to the band. The visit down memory lane wasn't the purpose of attending the night's party. He wouldn't dwell on the past, but he didn't disparage the nostalgia either.
Denny ordered a shot of Macallan Scotch whisky with a beer back from a passing waitress. Tonight, he celebrated with new and old friends. He reminisced over the past and looked forward to the future. His custom motorcycle business was doing better than ever, and thanks to his old friend, Treasure Vogle, renting her building to him, he had a new shop that could grow his business and provide a place to live. Denny had plenty to celebrate.
He glanced at the door that led to the deck overlooking the lake, and that's when he saw her. He knew he'd never met her before because he would have remembered. She walked inside and smiled right at him.
Her kind, warm eyes and lovely face appealed to him first, but when he saw the rest of her, she was the whole package, from the strawberry blonde hair to the boots on her slender feet. Not many women caught his eye these days. Not that Denny lived like a monk… Okay, maybe he lived like a beer drinking, solitary, garage monkey, gear head most of the time, but he wasn't a total recluse.
In all honesty, it had been a while since he'd been with a woman. Dating didn't come easily or naturally for him. Most of the time, Denny found that women who were interested in him made the first move, and he didn't object to having the attention of a pretty lady. But all too often, his girlfriend would try to move in with him before they truly knew each other, or she wanted him to play dad to their kid, or she didn't care for the number of hours he spent in the garage. Eventually, they disappeared from his life—sometimes after blowing up and yelling at him for being him, or for not changing to suit their needs.
This woman, however, might call for an actual first move made on his part. He couldn't remember ever wanting to speak to someone so strongly before. Damn. Denny ran his fingers over his scalp. Uncertainty fogged the inside of his head and made thinking difficult. His mojo fled the scene and left him hanging. This was an instant problem. Denny's heart rate picked up as he wondered what the hell he was going to say to this babe.
She was probably way out of his league. Would she wrinkle her nose at the first sight of his grease-stained hands? It'd happened before. Some women didn't like him because of his job. Well, screw that. Any person who thought they were better than him because he knew how to build a motor or restore a vintage Harley could piss off.
Yet the way she moved was so fluid and alluring. The tug on his loins wouldn't be ignored. The gracefulness of her body caught his attention and he felt like he was being stalked by a panther, but it was a good thing. Her exposed neck and the top of her shoulders caught his gaze and led to imaginings that needed to be further explored. But it was her face with expressive eyes and inviting mouth that held him totally captivated. He wanted to hear her voice. Nothing was worse than an annoying voice. That was another reason Jolene irritated him. He'd rather have someone prodding his eardrums with tweezers than listen to Jolene say "Denny Bear" one more damned time.
A couple of guys stepped in front of the stunning woman and stopped her from approaching Denny. He sidestepped to clear his view of her, but the waitress reappeared with his drinks. With a drink in each hand, Denny glanced back at the gorgeous babe to make sure he hadn't lost her in the crowd.
She fiddled with her hands and wore a tight-lipped smile as she said something to one of the men. Her gaze met Denny's, and if he wasn't mistaken, her eyes and the corners of her lips softened when they made eye contact.
He'd be damned if she wasn't just as interested in meeting him as he was her. He had to find out. And the way she edged away from the two dudes said she really wasn't interested in them.
Man up or get the hell out, his brain ordered. It hadn't been that long since he'd introduced himself to an available woman, had it? Yes, yes, it had. His internal dialogue was murdering him. He was rusty. That wasn't even close to being accurate. Denny had no skills in the picking-up-women department. Man, he sucked at this. What was he going to say? Only the worst clichéd lines came to mind. Can I buy you a drink? Are these two dirt bags bothering you, gorgeous? He may as well ask her astrological sign, or better yet, what her cat's sign was. That ought to seal his celibacy for the next decade.
He watched as she rolled her eyes at dude number one, and with more confidence than he felt, Denny strutted over. "Hey there. The waitress just brought our drinks. Would you like to take them back to our table?"
"I'd love to," she said and reached for the shot glass. The smile she flashed confirmed his suspicions that she didn't want to be cornered by these two dip-wads any longer. And better yet, she was looking at him the way he thought.
Denny raised a challenging brow at the two bros. They weren't altogether pleased about his intrusion, but didn't question her. He kept up the pretense and led her across the dining room and away from the band where it would be easier to speak and be heard over the music.
Just when his confidence received the small boost by her agreeing to step aside with him, she struck it right back down….
(oooh… a cliffhanger! Yes, I just did that.) You'll have to read the book to find out how Denny and Kiera's first encounter turns out.
But seriously, Denny is one of my favorite heroes of all time! He's sweet but powerful and totally swoon-worth sexy-with both his words and actions. I hope you love him as much as I do.
If you pre-order Catching Kiera, Amazon will deliver the ebook to your device as soon as the book is released! Pre-order by clicking HERE
Thank you for reading!
Cheers,
Jody A. Kessler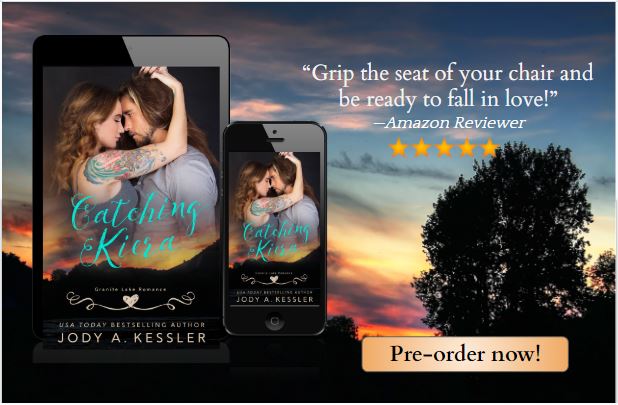 Photo credit: Lindee Robinson Photography
Models: Katlin Blake and Evan Cloyd
Cover design by Sommer Stein, Perfect Pear
~ Are you on BookBub? You can follow me on BookBub or leave reviews here: https://www.bookbub.com/profile/jody-a-kessler
Or Goodreads