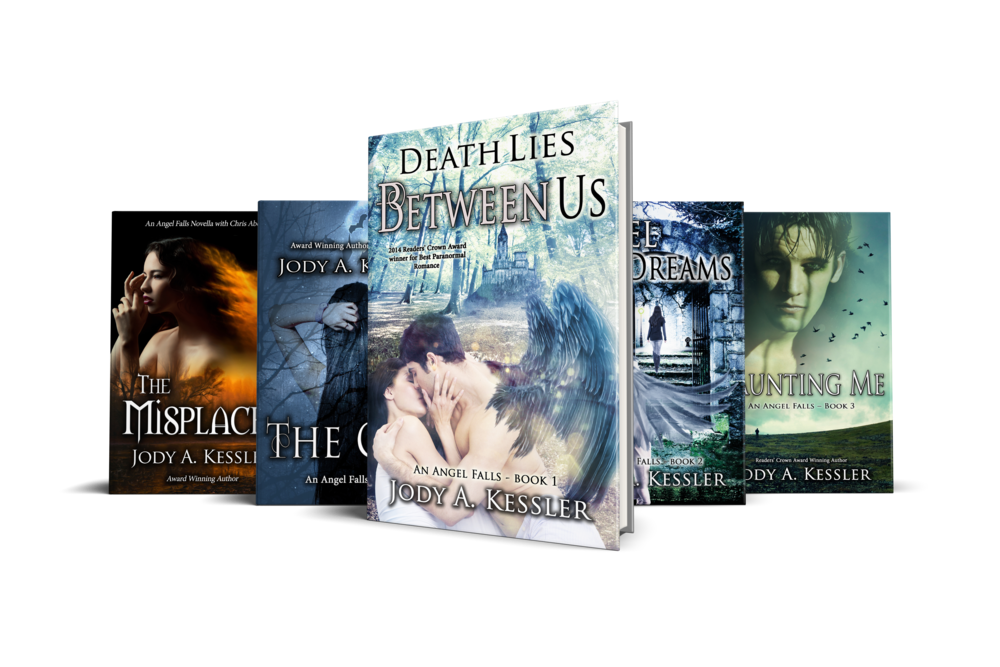 Death Lies Between us is the winner of the Reader's Crown Award for best Paranormal Romance & a finalist for Best First Book with a score of 9.4!
Books in this series are available on Amazon
Books in order of when they were written: Death Lies Between Us – 1,
Angel Dreams – 2,
Haunting Me – 3, 
The Call & The Misplaced are Chris Abeyta ghost hunting novellas.
Destined to Fall – 4.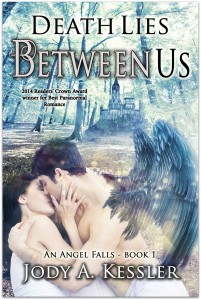 Back cover blurb:
Saving the life of someone you love should not be the worst thing you have ever done, unless you are an Angel of Death.
Disgruntled with his position in the afterlife and conflicted by his feelings toward his new client, Nathaniel Evans forgoes the rules of the afterlife and saves nineteen year old Juliana Crowson from being hopelessly stuck in Forge Creek. This alters Juliana's destiny and she finds herself in a series of near death accidents.
In the mountains of Colorado, Nathaniel comforts Juliana as she struggles to understand her paranormal abilities while coping with her brother's drug addiction. When an ill-tempered Native American Shaman teaches her the difference between ghosts and place memories, she decides she wants nothing to do with the supernatural world. Too bad she doesn't know that Nathaniel is part of it.
Will fate bring these two together, or has Nathaniel made the biggest mistake of his afterlife?
Angel Dreams (book 2) is available On Amazon
**5 Stars from Otherworldly Book Adventures**  "Jody A. Kessler does it again. This book is amazing. Jody writes with such passion that it truly shows in her work. The characters are easy to relate to and her world is brought to life in living color through her words. I can't wait to continue on this journey in book 3."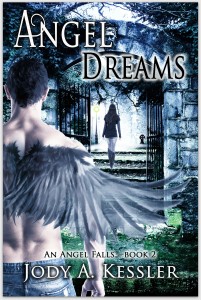 Back cover blurb:
Supernatural boundaries will be crossed as Angel of Death, Nathaniel Evans, risks his eternal soul to save the one he loves, the paranormally gifted and nature-loving, Juliana Crowson.
While working with a new client, Nathaniel finds out that pissing off a demon-wielding warlock in order to help a suicidal teen with misplaced sexual tendencies may be the last thing he ever does as an angel. Unable to stand aside, Juliana's involvement in Nathaniel's new case quickly develops into a misadventure with gun-toting bikers, table dancing, and a shamanic exorcism performed by her temperamental Native American friend, Chris Abeyta.
Can Nathaniel and Juliana's love endure blood-letting rituals in the forest while helping a terrified teen find the will to live, or will fate and the rules of the afterlife tear them eternally apart?
Haunting Me – Book 3 – Amazon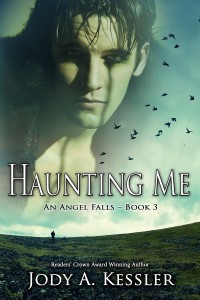 Back cover blurb
Angel of Death, Nathaniel Evans', newest case sends him on a perilous and magical journey to the Irish countryside in search of one unattainable answer: How does an Angel of Death fall from grace and return to life?
Back in Colorado, Juliana's mishaps with a book of spells and her well-meaning attempts to save her brother's life could cost her more than a ghostly haunting and a deadly virus. It could cost her everything she loves – her family, her home and her relationship with Nathaniel.
While on the hunt for answers, Nathaniel finds himself imprisoned with fairies and fighting a battle of strength, skill, wit and sorcery to win his freedom back from a ruthless fallen angel. Nathaniel must survive the duel if he wants to change his destiny and fulfill his desire for mortality and a chance to be with Juliana forever.
What readers are saying:
*****5 Stars – "Haunting Me (An Angel Falls, #3) by Jody A. Kessler is a magnificent masterpiece of fantasy writing. I was immediately hooked from page one and dreaded having to leave the novel for necessities such as food and sleep. This is one awesome read that demands full attention. I so love this book and am gonna read the rest of the series now." – Author, Simon Oneill
"…the reader cannot but gasp at such incredible writing and breath-taking visionary story-telling. A true fantasy masterpiece and oh so very highly recommended." – amazon reviewer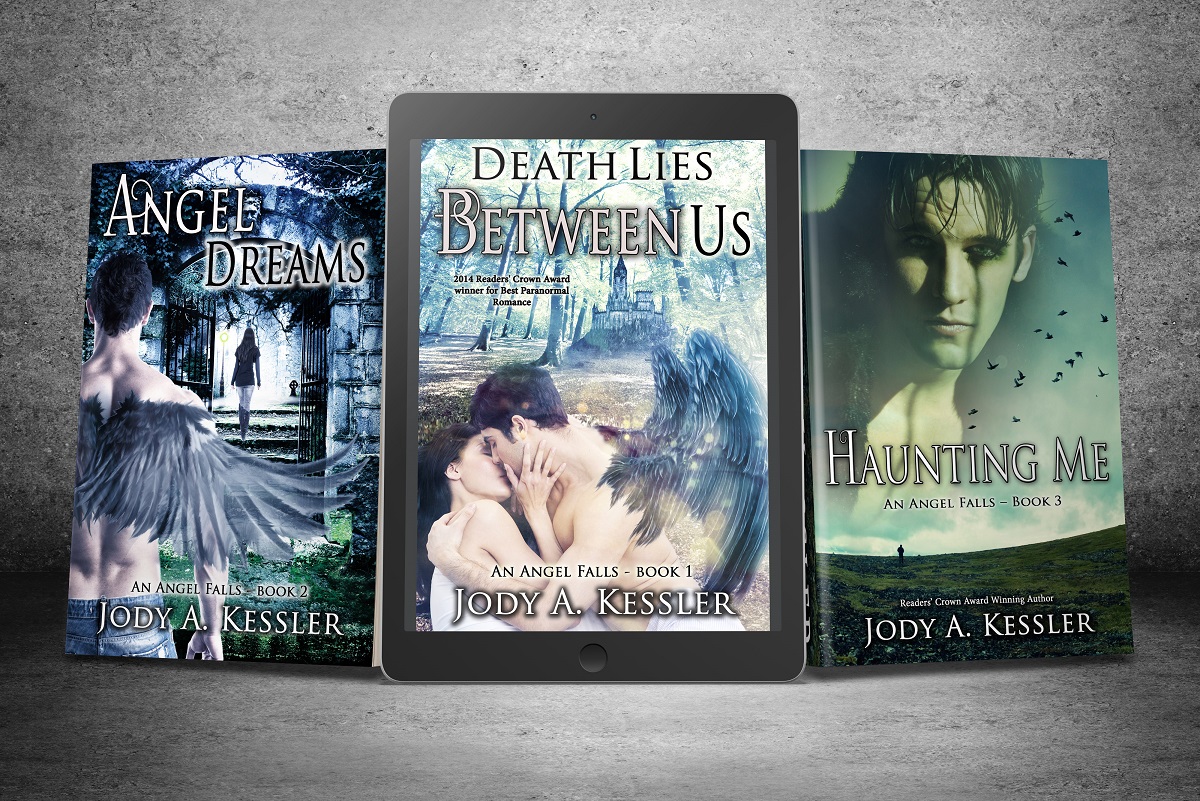 Destined to Fall – An Angel Falls book 4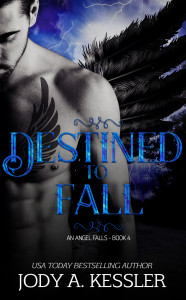 Back Cover Blurb
There are laws and rules to the afterlife.
My name is Nathaniel Evans and I'm an Angel of Death who breaks the rules.
My newest case, Steven, is a misguided pyromaniac who lies, cheats, and steals horses. If he would stop trying to kill himself, I would be a happier camper. But I'm stuck with him… when all I want is to be with my true love, Juliana Crowson.
Juliana may be able to communicate with ghosts, reads auras, and dream travel, but her empathy and visions of wild fires compels her to rescue the stolen horses with help from Chris Abeyta, an anti-social shaman and ghost hunter.
Loving Juliana and keeping her safe — not as an angel, but as a man in the flesh — is the ultimate goal, but falling from grace is a hazardous and forbidden undertaking.
Love is worth every sacrifice… and sometimes we are destined to fall.
The Misplaced – An Angel Falls novella – Ghost hunting with Chris Abeyta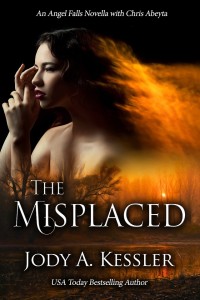 On The Back Cover
Antisocial ghost hunter and shaman, Chris Abeyta, begins his day with an obnoxious, perky, and mysterious new client. Chris does not do "perky," especially at four a.m. But the empathic and beguiling, Naomi, taunts him out of bed to discover an energy vortex and a horde of wicked ghosts overrunning his small mountain town.
Sleep deprived and unenthusiastic, Chris joins Naomi in solving the mystery of the vortex, but a run-in with a couple of misguided thugs while being taunted by an insufferable spirit guide does not improve his morning or his outlook.
Will Chris's curmudgeonly ways ruin any romantic prospects with the vivacious and magical, Naomi, or has he finally met his match?
~*~*~*~
Read an excerpt from Death Lies Between Us:
In front of me is my new client.
She scratches her pen with fury across the paper. Her face is intent and her eyes are hidden under black lashes, but there's something about the way she holds her head, the way her lips are pressed together as if sadness has sealed them. It tugs at a memory, the memory of being left in the car while my parents drank at their favorite bar, sealing my lips, setting my jaw in stubbornness while casting my eyes down to hide my feelings from my mother as she says, "stay in the car Nathaniel, your father and I will be right back," then waking up hours later stuck to the vinyl seat and wondering if we're going home now. I shake it off; that fish needs to stay buried beneath the sea.
Who is she? Why her? How long do we have? I ask myself these questions again and again, but this time I have a sense that I don't want to know the answers, and I have no choice but to find them out.
Her focus on the notebook in her lap is complete. I can all but see the iron walls that surround her, but it doesn't intimidate me. Intrigue has already washed through me for this girl, but for right now, I don't cross her line.
Give her some time. She has so little of it left.
I wish she would look up and give me a small taste of what's behind her curtain of black hair and under those lashes. If I could get a glimpse of her eyes, then I'd know if the intensity I feel is radiating from somewhere within her as I suspect it is. Their eyes always give me a hint of what to expect, after it happens. Will she struggle with her fate, or will she walk away with ease?
"Jules? Hey, Jules. What do you think of this?"
"Hmmm?" she asks, not looking up.
Surprised, I turn to see who's speaking. He sits on the edge of a worn green velvet chair with a guitar in his hands. One long leg stretches out across the floor in front on him. He's young, maybe eighteen or nineteen. I hadn't noticed him. The ivory skinned girl in front of me, Jules, had been holding my attention to the exception of everything else.
"Listen," he says. He strums out a melody and then follows it with an intricate solo on a midnight blue Gibson. "What do ya' think?"
"Yeah, great, Jared.  Just write that?" she mumbles. Her pen taps the paper. Her eyes flash his way but are gone again before I can see them with any real clarity.
He shakes his head at her and rolls his eyes. "Whatever, Jules. Sorry to interrupt your musings."
"Shut up," she says without any threat.
"You writing for the band?"
"No."
"Too bad. We could use some new lyrics."
She hunches back over her notebook. I look the guitar player over and then at her again, finding similarities. They have the same shiny black hair, high cheek bones, wide mouths, and straight noses. Jared is darker skinned and taller, and she is more delicate overall, but they are the male and female version of each other. Siblings, I would bet money on it.
Besides the obvious, the guitar, Jared is the picture of a rock star. His hair is tied back in a short tail; he's wearing dark grungy jeans with the right shoes and there is the name of some obscure band on his concert t-shirt. The piercings in his ears and eyebrow are noticeable, but not obnoxious. He is the type of guy who will never have difficulty getting a date. He continues to thrum and pick at the strings. I would rate his intensity coming in just under hers.
The scratch of Jules' pen continues.
I watch a while longer, trying to adjust to my new surroundings. This homey room is a far stretch from the stress-filled hospital scene I've just left behind. Jules sits on a double bed next to an old trunk. Potted plants cover the surface of a white dresser next to the velvet chair where Jared practices. The mirrored closet doors reflect the view of tall pines touching a perfect blue sky outside the only window in the room.
I don't see myself in the mirror. I have no reflection. It's something I may never get used to. My attention is brought back to the black trunk with its brass trim. A stereo with stacks of CDs cover most of its surface, but there are also a few books, a lamp, and a candle. The room is simple and uncluttered, reminding me of my own room, before… when I lived.
The bed creaks as Jules' unfolds her jean clad legs. She straightens her rounded spine and sets her shoulders back. I step forward out of curiosity and lean down to read the paper. Spidery black scrawl covers everything but near the center of the page is a grouping of short lines, it resembles poetry. I can just make out the words, 'he left us behind, when will it be my time,' when Jules clears her throat. I lift my eyes to her face. She looks right at me. I take a half step back. Somber green eyes flecked with gold and rust stare into mine. Her irises bring to mind a red fox running through tall green grass, camouflaged, sleek, wild, and graceful. Her arched brows rise in unspoken question. I hear the sound of the notebook closing on her lap. Her eyes shift to the door and she frowns, making her look even more solemn.
Why the sadness?  I wish I'd gotten a better look in her book.
"Go."
I hear it as clear as if someone had spoken inside my head. Not my own voice, but female, her voice. Unsure, I take another step back, keeping my eyes on her, and not leaving. She stares out the door into a hallway, cool distance on her face. Anxious agitation crawls through me as I wonder what the implications are of being seen ahead of time. I've been seen before, not by one of my cases, and not often, but it has happened. I've found some people are more sensitive than others to my presence. Most of the people who do 'see' me are frightened, letting fear of the unknown control their emotions, but if I'm not mistaken, she had just nonverbally, and calmly, told me to get out. That has never happened before. Instead of leaving, I move closer, unable to resist the urge to see what she'll do.
She turns away from me as if repelled by an unseen odor then shoves the notebook and pen into a black backpack. Sliding to the edge of the bed, she stands and moves toward the door.
"Jared, I'm going downstairs to eat. Do you want anything?"
She looks and sounds calm, but it did not escape my notice how swiftly she moved away from me. Loneliness starts to slide off my back. Maybe this time will be different.
"Nope," he says, with his head bent over the strings.
She brushes a long fingered hand over her scalp, pushing her waist length hair away from her face then tucks loose strands behind her ear.
She unsettles me with a direct green gaze, shakes her head once and walks out of the room, muttering, "You barely eat anymore, Jared. Are you feeling all right?"
Jared doesn't answer, or acknowledge that he even heard.
I stand motionless. Her reaction was bewildering. Did she see me or not? Most of my assignments ignore me until they absolutely can't get away with it any longer. The exception are the older ones, sometimes they're ready for me, sometimes not.
I'd been frustrated beyond belief with my last case. The multi-car pileup was complete chaos. Broken cars and broken bodies, emergency personnel and bystanders cluttered the scene, but it was my client making me grit my teeth. I secretly called him Mr. Curmudgeon. He kept insisting he didn't need a doctor and telling me to go away. He refused to believe he'd died and was inconsolable about his wife's condition. She was injured and dying, and he wouldn't leave her side. She was not in my charge and I thought she had a ways to go before crossing over. I made every attempt to persuade him to move on, or to take a step back, but his resistance only grew. I ended up letting Marcus, my mentor and friend, take over.
I don't know what I would have done without Marcus there. He always knows what to do; in this case it was all about waiting. Mr. Curmudgeon wasn't going anywhere without his wife, including to the afterlife. I was starting to believe I'd failed at my job; I'd actually lost a client. That's the worst thing that can happen to one of us. Marcus thought Mrs. Curmudgeon — she wasn't anything like the husband, her name was Mrs. Miller — would talk some sense into him. Marcus's non-plan of waiting for the wife was a success. She died sooner than I expected and the husband passed into the next world without even one last snide or gritty remark flung my way. Everyone is unique, I remind myself, including this gorgeous girl.
~~~ The An Angel Falls series is available on Amazon ~~~
Would you like more? How about a free story?
Subscribe to the newsletter and receive a free copy of The Call – An Angel Falls Novella.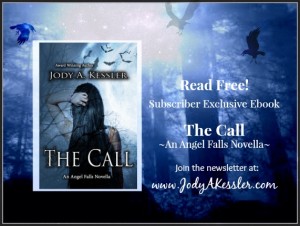 Don't like extra emails clogging your inbox? You can unsubscribe anytime.
If you would like a copy of The Call and don't want to subscribe, send me a message via my contact form and I'll email a copy to you asap …and I'll never use your email address ever again. Let me know if you would like a mobi (kindle) copy or a PDF.  🙂
Thank you for reading!