Novels by Jody A. Kessler
Available on Amazon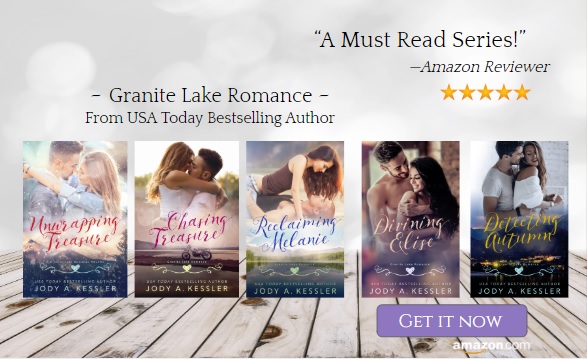 Granite Lake Romance series  – Amazon
Unwrapping Treasure – Granite Lake Romance Novella – 1
Chasing Treasure – 2
Reclaiming Melanie – 3
Divining Elise – 4
Detecting Autumn – 5
Catching Kiera – 6
An Angel Falls series: (This series is best if read in order)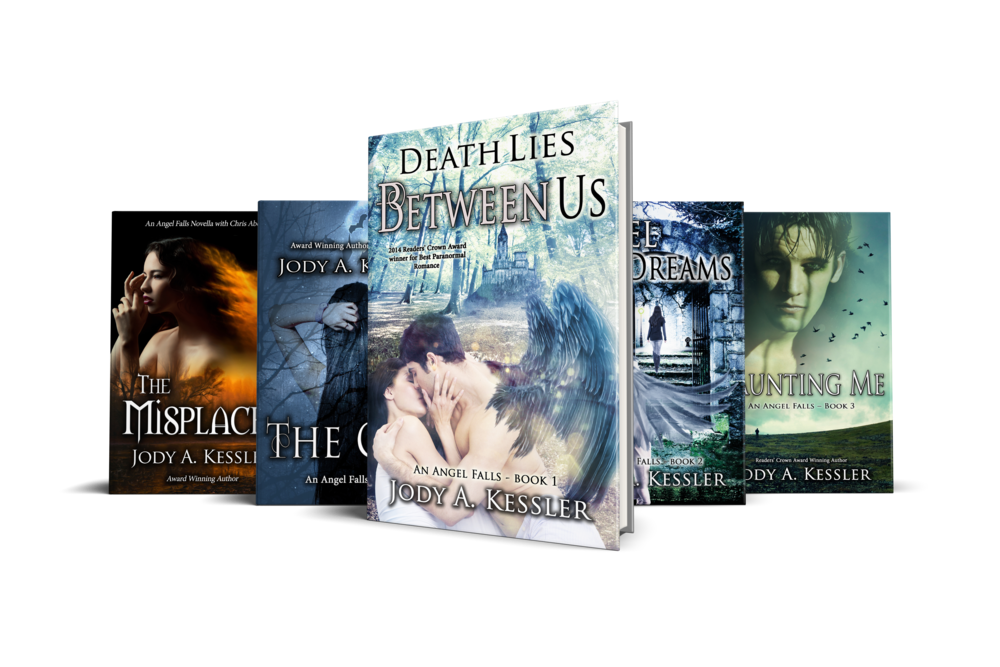 Death Lies Between Us – 1
Angel Dreams – 2
Haunting Me – 3
Destined to Fall – 4
The Misplaced – a Chris Abeyta ghost hunting tale – novella length
The Call – a Chris Abeyta ghost hunting tale (Free for subscribers to the newsletter)
Historical Fiction Time Travel
The Night Medicine – 1
The Night Medicine – part 2 (coming in the future – I promise I'm working on this!)
Witches of Lane County series
Heart of the Secret – 1 (novella length)
A Witch's Fate – 2
Other Works
When We're Entwined – A new adult coming of age romance.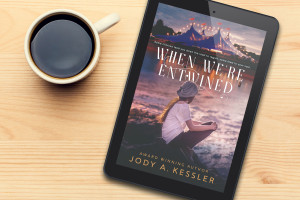 ~*~*~
More About The Night Medicine ~  A Historical Time Travel Adventure ~ On Amazon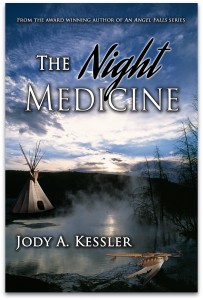 In 2012, Blackfoot tribal member, Dean Wolfsblood, is the reluctant guardian of a centuries old medicine pipe that makes time travel possible. When Dean's former Marine buddy, Badger Lowell, bribes him to take the arduous trip into the past, the last thing either of them expects during the "Night Medicine" ceremony is for an intruding grizzly bear to chase Kai, a beautiful and complicated Cree woman, into the past with them.
Upon arrival in 1868, the three unlikely companions discover deceit, murder, buffalo hunters, and a kidnapping waiting for them as they travel across mountains and plains to the gold mining town of Helena, Montana. As hidden motivations are exposed, secrets are revealed, and all well-meaning plans for their journey are cast away into the winds of time. Can they survive history and each other long enough to make it back, or will the past change their futures forever?
 Death Lies Between Us is the first book in the series, An Angel Falls.
Death Lies Between us is the winner of RomCon Reader's Crown for best Paranormal Romance & a finalist for Best First Book with a score of 9.4!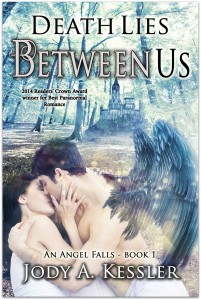 Back cover blurb:
Saving the life of someone you love should not be the worst thing you have ever done, unless you are an Angel of Death.
Disgruntled with his position in the afterlife and conflicted by his feelings toward his new client, Nathaniel Evans forgoes the rules of the afterlife and saves nineteen year old Juliana Crowson from being hopelessly stuck in Forge Creek. This alters Juliana's destiny and she finds herself in a series of near death accidents.
In the mountains of Colorado, Nathaniel comforts Juliana as she struggles to understand her paranormal abilities while coping with her brother's drug addiction. When an ill-tempered Native American Shaman teaches her the difference between ghosts and place memories, she decides she wants nothing to do with the supernatural world. Too bad she doesn't know that Nathaniel is part of it.
Will fate bring these two together, or has Nathaniel made the biggest mistake of his afterlife?
Book two, Angel Dreams, is finally here! On Amazon
**5 Stars from Otherworldly Book Adventures**  "Jody A. Kessler does it again. This book is amazing. Jody writes with such passion that it truly shows in her work. The characters are easy to relate to and her world is brought to life in living color through her words. I can't wait to continue on this journey in book 3."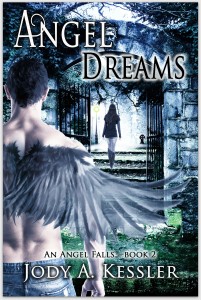 Would you like a teaser from Book 2, Angel Dreams?
Supernatural boundaries will be crossed as Angel of Death, Nathaniel Evans, risks his eternal soul to save the one he loves, the paranormally gifted and nature-loving, Juliana Crowson.
While working with a new client, Nathaniel finds out that pissing off a demon-wielding warlock in order to help a suicidal teen with misplaced sexual tendencies may be the last thing he ever does as an angel. Unable to stand aside, Juliana's involvement in Nathaniel's new case quickly develops into a misadventure with gun-toting bikers, table dancing, and a shamanic exorcism performed by her temperamental Native American friend, Chris Abeyta.
Can Nathaniel and Juliana's love endure blood-letting rituals in the forest while helping a terrified teen find the will to live, or will fate and the rules of the afterlife tear them eternally apart?
~*~*~*~*~*~*~
Thank you for reading.
Jody A. Kessler's books are available on Amazon