Welcome to October!
I'm giving away Godiva Chocolates (delivered to your door!), A Kindle Fire 8″, ebooks, & MORE!
Halloween Month of Treats Giveaway
October 1 – October 31st 
Who doesn't love to curl up with page-turning book on a chilly October day? And what would make escaping into an awesome story even more indulgent? Chocolate, that's what!
Enter for your chance to win both in the Halloween Month of Treats Giveaway. Every day in October, we'll be posting two new giveaways, or sometimes a giveaway and FREE book for your to download immediately and enjoy.
A paranormal romance and gift set of Godiva chocolate cookies. A romantic comedy and a box 60 of Lindor truffles. Steamy romance, romantic suspense, urban fantasy, mysteries…We've got the goodies to hand out. It's trick or treat time!
Enter to Win at:
http://halloweenmonthtreats.blogspot.com/
No purchase necessary.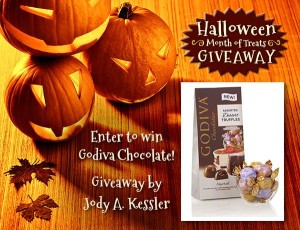 The Godiva chocolate truffles giveaway is Oct. 30th. There are other giveaways every day this month!
This Giveaway is Sponsored by:
Jody A. Kessler • Alex Gordon • Amanda Uhl • Angelica Kate • Astrid Arditi • Bethany Strobel • Bianca D'Arc • Cailin Briste • Cherie Claire • Christa Paige • Crystal Dawn • Emme Rollins
Greta Boris • Holly Cortelyou • Hope Worthington • Jacqueline Diamond • Joanne Dannon • Julie Mulhern • Karen Michelle Nutt • Lia Davis • Lila Dubois • Lisanne Harrington • Louisa Clarkson • Mia Woods • N.D. Jones • Nancy Segovia • Naomi Bellina • Patricia Burroughs • PG Forte • Rachel Shane • Rose Chapman • Sandra Marton
Scarlett Dawn • Selena Kitt • Shaniel Watson • Sorchia DuBois • Stephanie Julian • T.F. Walsh • Traci Highland • Vella Day • Veronica Blake • Viola Estrella
 GIVEAWAY #2 & FACEBOOK HOP!
HALLOWEEN FACEBOOK HOP & PNR/UF GIVEAWAY!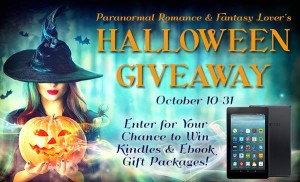 Who says Halloween is just for kids? Paranormal romance and fantasy lovers, here's your chance to grab some sweet, sweet loot! Enter the Halloween giveaway October 10–31 and you could take home one of four prize packages, including the top prize, a Kindle Fire HD 8 and winner's choice of $35 in ebooks from Amazon. Second through fourth prizes offer more kindle/ebook prizes.
Enter the Giveaway Here:
https://halloweenmegahop.blogspot.com/p/pnruf-halloween-giveaway.html
Then, be sure to join us for our Facebook Hop October 28–31, when we will have 70+ gift cards available for over 70 lucky winners. That's a gift card at every stop on the hop!
Facebook Hop Starts Here on October 28
https://halloweenmegahop.blogspot.com/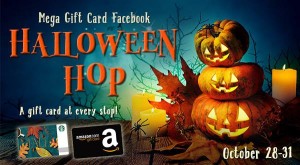 October is a great month to enjoy the fall colors, cooler weather, apple cider, and pumpkin everything! Some of my favorites are pumpkin pie, pumpkin bread, and pumpkin donuts! I hope you have a wonderful Autumn.
And if you're looking for a new romance book to read, you can check out an Indie Author Day Romance Sale (Oct. 14 -16th) All books are FREE or .99 cents.
https://romancebooks.blog/indie-author-romance-2017/

 Cheers and happy reading,
Jody