~ Unwrapping Treasure ~
A Granite Lake Romance Novella – book 1 – on Amazon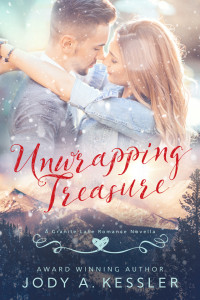 Paramedics Treasure and Bodie never imagined their Christmas Eve nightshift could turn into a dangerous and sexy holiday escapade that changes their lives forever.
* * * *
Paramedics Treasure and Bodie arrive on scene at a routine emergency call and find an outrageous holiday party, a Christmas tree on fire, and an innocent life to save that nearly cost them their lives.
After escaping the chaos of work, they decide to spend their Christmas vacation together at a secluded lakeside cabin deep in the heart of the Sierra Nevada Mountains. With the snow falling soft, a warm fire in the hearth, and fresh cookies baking in the oven, an innocent holiday getaway quickly turns into a night of spontaneous passion with no strings attached.
Will Treasure and Bodie's hasty decision to spend the night tumbling between the sheets – and on the table, and the floor – prove disastrous or will their relationship develop into something neither of them saw coming?
Available on Amazon
Recommended readers 18+ for mature content and romantic scenes.
~*~*~
Chasing Treasure – book 2  On Amazon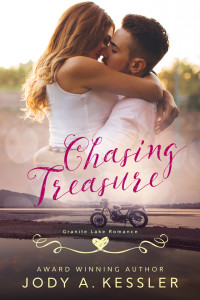 After spending the winter apart, Treasure can't stop thinking about her former paramedic partner, Bodie Everett. But with her unfortunate history of dating, and an overwhelming fear of commitment, Treasure doesn't know how she'll react when Bodie returns from Wilderness School. Or if the irresistible and sexy, Bodie, wants to continue where they left off back in December.
With a ridiculous suspension from her job and a flooded apartment, Treasure heads to Granite Lake and back to her childhood home — a rundown apartment and a garage packed full of motorcycles.
Now that Bodie's back in town and has new Search and Rescue certifications under his belt, he's ready to move forward with his life. After an unforgettable night spent with Treasure, he can't seem to shake her from his head or his heart.
Bodie wants to deepen his relationship with Treasure, and take things to the next level, but opening a brewpub with his brothers, joining the Mountain Division of Search and Rescue, and the surprise return of his ex-fiancé make chasing and catching Treasure more difficult than he ever imagined.
**A sexy, fun, and drama-packed friends-to-lovers romance with a happily ever after.
**Contains mature language and romantic scenes.
***Chasing Treasure is the follow up to Unwrapping Treasure – A Granite Lake Romance Novella, and can be read as a stand-alone novel. Amazon
Reclaiming Melanie – book 3  Amazon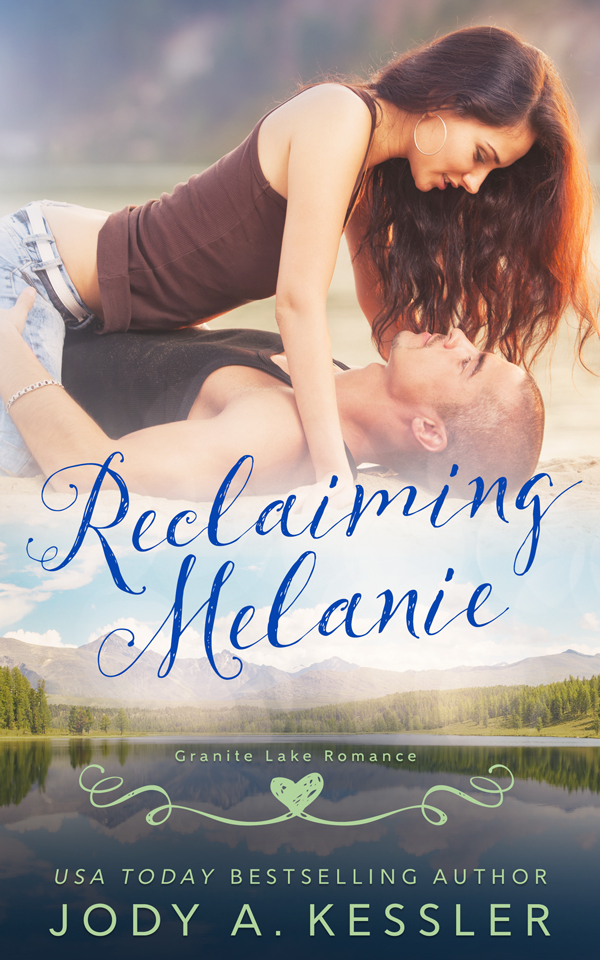 Single mom Melanie Jamison doesn't have time for half-naked rescues from Granite Lake by her first love, Braden Keehn — the boy who mysteriously disappeared from her life a decade earlier. Coaching, repurposing furniture, and taking care of her daughter who has severe allergies have her swamped.
But there's one gargantuan problem with this second chance romance – the sexy alpha game warden doesn't seem to remember her.
Special Ops Game Warden Braden Keehn's recent drug investigation leaves him ambushed in the forest and lucky to escape alive. Helping his brother fix and flip an investment property in Granite Lake is just what the doctor ordered for a quiet recuperation.
But there's one mammoth-sized surprise — Melanie, the girl he loved and lost, lives in the house next door… and he can't tell her anything about why he's returned.
Reuniting with Melanie — and falling in love again is easy — but gaining her trust and finding their happy ever after brings frustrating, steamy, and sometimes hilarious challenges Braden never saw coming.
A steamy, sexy, fun second-chance romance.
Reclaiming Melanie is a stand-alone novel with a happy ever after.
**Intended for 18+ for mature language and romantic scenes.
Divining Elise – book 4    Amazon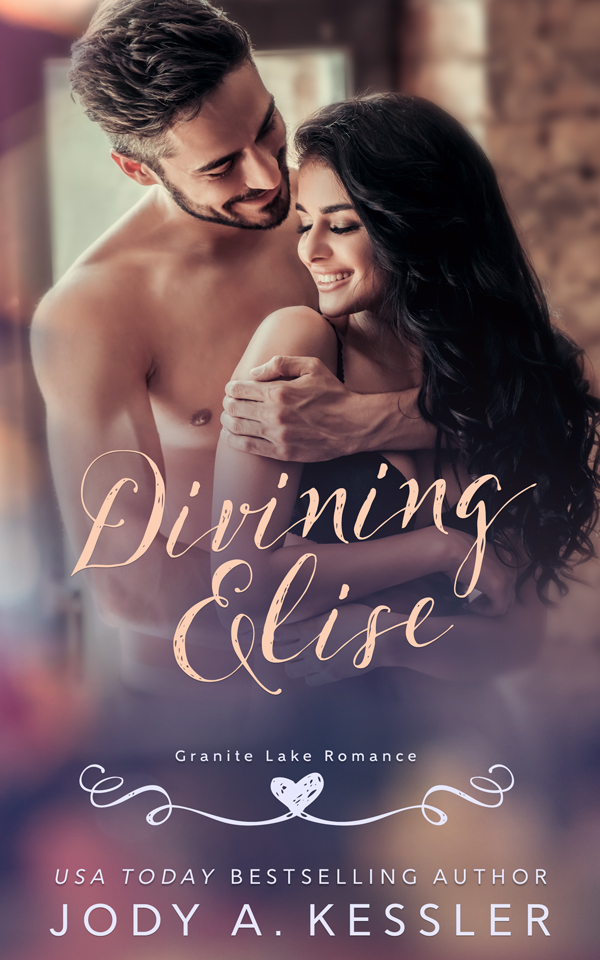 Elise Martinez wished her date with destiny didn't include being run off the road by the most caring, handsome, and intelligent man she'd ever met.
Moving to Granite Lake to manage a bookstore and coffee shop meant Elise could finally leave her haunted past behind, but being a psychic mom to a deaf child has its benefits and downfalls—and her guarded heart isn't ready for a new romance.
Rob Everett never imagined giving up corporate law to open a brewery with his brothers in Granite Lake would begin with a car accident and the arrival of a surprise baby.
As if being a single dad and starting a new business weren't hard enough, Rob can't get the beautiful, mysterious, and feisty bookstore manager out of his mind.
For Elise and Rob, falling in love is a complicated, sexy, and emotional enterprise.
Mix in a baby, a haunted brewery, craft beer, and a dangerous ex-husband into this recipe of love and their future isn't as easily divined as the fates would have foretold.
**A steamy stand-alone novel with a happy ever after.
**Contains mature language and romantic scenes.
Detecting Autumn – book 5    Amazon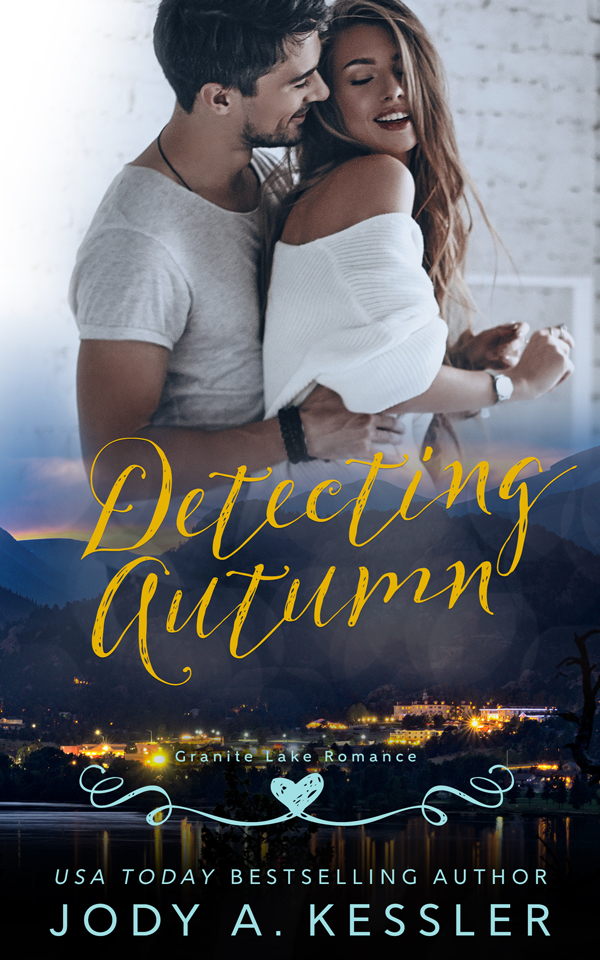 "All's fair in love, war, and romance novels."
Bestselling romance author, Autumn Alex Monroe lives and works by her misguided credo.
Whether she's jumping from planes, dating members of the mafia, or falling for the detective who's trying to find out her true identity, Alex will do anything to write the perfect novel.
Private investigator turned brew master, Shane Everett, is selling his detective agency and moving to Granite Lake to open a brewery with his brothers.
When mafioso, Gabe Moretti, offers Shane easy cash to investigate his girlfriend, the witty and sexy author Alex Monroe, Shane takes the job.
Shane soon discovers that Alex has multiple personas, she's weird, wild… and totally irresistible.
Plus, she needs Shane's protection from the sociopathic goon who claims to be her boyfriend.
With Alex's bizarre sleep disorder, a wedding held at gun point, and their off-the-charts attraction, Shane and Alex will have you cracking up with laughter and swooning over every page.
**A steamy, hilarious, and drama-packed romance with a happily ever after.
**Contains mature language and romantic scenes.
**Detecting Autumn is a stand-alone novel. However, some of the characters in this novel are also in the other Granite Lake Romance novels including the other Everett brothers.
Granite Lake Romance is Available on Amazon 
Catching Kiera – Book 6   Amazon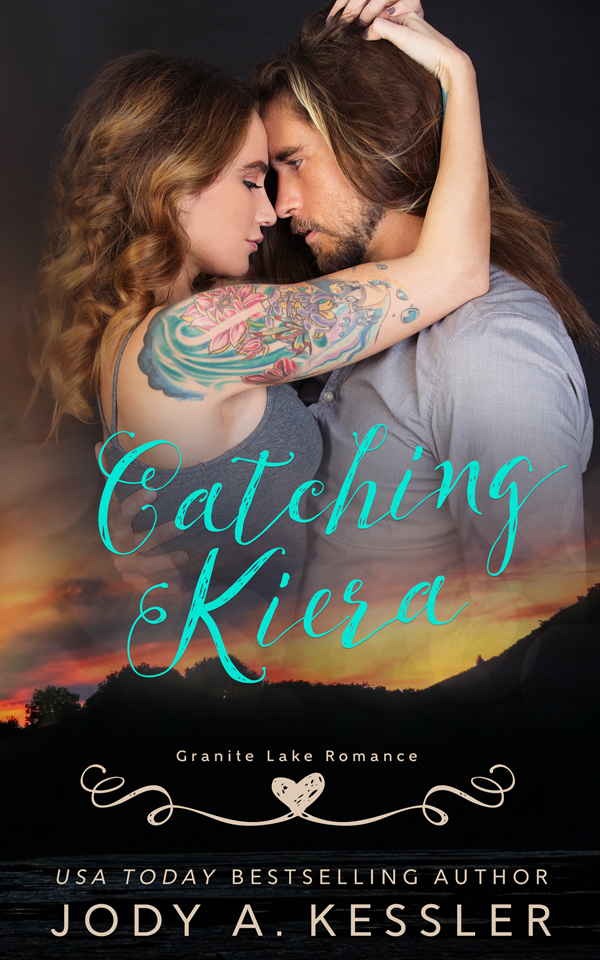 Kiera Sawyer has always been a free spirit at heart. Her wanderlust and campervan take her wherever a new adventure awaits—which is often to the next music festival.
That is until she meets Denny, a biker mechanic whose Viking good looks and bachelor status are well known in the small town of Granite Lake.
Denny Masters was born with a calling to build motorcycles. Contrary to the rumors, he's not anti-social or anti-women, but he does spend a lot of time in the garage.
That is until he meets Kiera at the grand opening party for Black Bear Brewing.
Unfortunately, it's Denny's old acquaintance, Jolene, who introduces them—and drunken shenanigans and miscommunication do not make for the start of a solid relationship.
While Denny tries to catch Kiera's attention, Jolene doesn't seem to be able to take no for an answer. Thankfully, Denny is heading to Motor and Metal Fest where he can sell bikes and get to know Kiera better.
A road trip and a music festival with a gorgeous, intriguing, and fun woman makes Denny believe the pieces of his life are finally coming together.
But Kiera isn't being totally upfront about her personal life—or her relationship with her boss, Ash Wilde, the CEO of the company.
Will Denny and Kiera stick together through a tangle of misfortunes, a love triangle Kiera never saw coming, and Jolene's stalker tendencies, or will they lose the trust, hope, and love they've found in each other?
**A drama-packed, fun, page-turning wild ride filled with heartfelt, steamy romance and traveling the world—because catching Kiera is a love worth fighting for.
**This book contains mature language and romantic scenes.
**Catching Kiera is a stand-alone novel. However, some of the characters in this book are also in the other Granite Lake Romance novels.
On Amazon and Kindle Unlimited
~*~*~*~
Read a Preview of Chasing Treasure
Chapter One
Treasure rolled over and admired, not for the first time, Court's hard, delicious deltoid muscles. They capped broad shoulders and flowed seamlessly down to meet bulging biceps. His muscles elicited a baser need to climb on top of him, squeeze him between her thighs and stroke every inch of his incredible arms — and the rest of him, too. His triceps were ripped. His forearms could have belonged to Popeye. She glanced at his chest and almost drooled at the sight of the smooth bronze pecs and rippling abs.
Court caught her attention the moment he entered the bar last night. She'd been chatting with friends and he quickly became the game of the evening. She supposed she'd won. In all honesty, her girlfriends hadn't been as driven to win the prize as she had been. Treasure knew going to Paradiso would more than likely provide a new boy-toy, or two, and she thought she was in the mood to fool around with someone new.
She hadn't exactly meant to end up in bed with him, but she hadn't been opposed to it, either. Now, she was in Court's brand new condo, wondering where her clothes were while trying not to berate herself for sleeping with someone she just met. What do I even know about this guy? He told her he was new in town, which explained why she and her friends had never seen him before. He said he moved to Reno for a job, and his last name was Prescott. Court Prescott. That should have been a huge flag to their sexual incompatibility. His name sounded ridiculously pretentious to Treasure, even though he didn't come across that way. And who names their kid Court, anyway? It reminded her of basketball or tennis. Which brought on the image of balls and that made her snicker as she mentally renamed him Court Tennis Balls Prescott. Yeah, balls had definitely been involved last night, she thought, and knew it was juvenile, but ball jokes never got old. Except for actual old balls, and that was unpleasant to think about.
Lying next to him, Treasure slid Court the side eye. This wasn't the first time she'd done something like this, but it was the first time she regretted it with such whole-hearted distaste. He'd been a sloppy and unrefined lover. The thought of kissing him made her queasy. His lips were beautiful, but had no finesse. She should have known after the first kiss sex with this man would be disappointing, but she'd pursued him and kept the foreplay going with the hope that the night would get better with a little coaching. It hadn't. She cringed at remembering the lackluster roll in the sack and his less than stellar performance. For all his good looks, the man had no moves. Was it the tequila shots? Some men couldn't handle their liquor and their women in the same night. In her own experience, she thought alcohol improved her sex drive, lowered her inhibitions, and generally made naked encounters with men much more exciting. She'd have to rethink this approach. Either way, in her current state of undress, the insufficient stimulation after they left Paradiso clung to her like slime-coated cellophane.
She inched across the mattress and paused, listening for a change in Court's breathing. If she could sneak away without waking him, it would save her a headache. She never wanted to see him again. Uggg, she groaned to herself when he rolled over and his hand brushed her side.
His eyelids fluttered before opening. The whites of his eyes were bloodshot. Treasure swallowed and wished she had pretended to be asleep. A sly grin crept across his face. His body had originally attracted her, but those damned dimples sealed the deal. At least, at first. The dimples reminded her of Bodie, and sent her mind reeling with vivid memories of her friend and work partner. When you watched Bodie smile, you had to search for the dimples, like they were a secret hiding just below the surface. Bodie's dimples weren't as deep as Court's, but Bodie's were sexier. She wished she could see them now. Damn it. Why was Bodie always on her mind?
A new fling should have kept her distracted from her and Bodie's single night together last December. But she couldn't stop comparing every guy she met to Bodie. And now that she'd slept with someone else, it was even worse. Court didn't hold a candle to Bodie's proficiency and skills in bed. Bodie Everett had unknowingly destroyed her chances of ever having another orgasm without emotional attachment again. He ruined her. With no one else to blame but herself, she felt unreasonably mad at him. Treasure lay there, vowing to herself that she would find someone else who could perform as well. Court had been her first date since Bodie left town in January to train at the Wilderness School, but she couldn't let one bad experience cloud her future sex life. She needed to quit thinking about him. There had to be another guy as intuitive and teeming with sex appeal as Bodie Marshall Everett. She only had to find this mythical creature of god-like sexual aptitude to prove her theory. Too bad her first attempt had gone so abysmally.
Court slid across the khaki cotton sheets and wrapped an arm over her. He nuzzled her bare shoulder. "Thanks for last night. You were on fire, baby. So hot," he murmured.
Bleh. She didn't even want to hear him speak and had the overwhelming urge to plug her ears with her fingertips. Apparently, my tequila goggles last night had really thick lenses. The thought of morning sex with this lump of flesh forced her to roll out of bed and onto her feet.
"Hey," she said. Her frustration and regret wanted to curse and rant about his unsatisfactory performance. But, informing Court he should read Orgasms for Idiots or Foreplay is the New F Word wouldn't help either of them. Playing the bitch card was uncool, and Treasure refrained. Saving those cards for special occasions seemed like the higher ground. Besides, she was equally to blame for the bad judgment — and her hung-over wilted brain cells needed less words and more coffee. She grabbed her jeans and shirt off the floor and slipped them on. "Sorry, I have to run. I have a ton of errands to do today," she lied.
Court had to be equally hung-over, but it didn't stop him from pushing the sheet down to his hips and running a hand over his chest.
"You sure you don't want to stay for breakfast?" He glanced down at his morning wood and then back to Treasure, flashing the cheesiest insinuation she'd ever seen.
Oh. My. God. She inwardly groaned again and strained to keep her eyes from rolling around their sockets. "I gotta go." Treasure grabbed her bag from the dresser and her shoes off the floor and darted out the door.
~ end preview ~
Thank you for reading.  Available on Amazon