Win a Paperback Copy of When We're Entwined
Giveaway runs from Sept. 18 – Oct. 24
---
 Kindle Fire Giveaway Sept. 1-29st
Plus enter to win an Amazon gift card, signed bookmarks, and E-books! a Rafflecopter giveaway
---
(GIVEAWAY OVER as of Sept. 20th) This month we also have September Freebies, Sales, & Giveaway!
Thank you for being a loyal reader! Check out the latest deals from a fabulous selection of authors in multiple genres. For the September deals & a chance to win a Kindle Paperwhite or  $100 Amazon Gift Card
Click here:
(Mega Sale & Giveaway runs until Sept. 20th)
Thank you for stopping by! Good Luck!
  ————————————————————————————-
Unwrapping Treasure – New Release Book Blast and Giveaway
Unwrapping Treasure is available now for .99 cents on Amazon
And, enter the rafflecopter for a $10 amazon gift card — contest runs Dec. 3-7th. For more about my new Granite Lake Romances click HERE or follow the drop down menu for my Books page. a Rafflecopter giveaway Good luck!
——————————————————————————————
New giveaway to celebrate the release of Haunting Me Enter to win a $10 amazon gift card
a Rafflecopter giveaway Good luck and if you'd like to grab a copy or share a book with a friend, now is a great time to download a book from Amazon. (sale ends October 20th)
—————————————————————————————–
RomCon is here already!
Here's a sneak peek at the one of the prizes being given away this coming weekend. (There's even more goodies inside the bag.) If you can't make it for the entire weekend, you can always stop by for the book signing on Saturday evening. I have handmade key chains to giveaway!

I hope some of you will join me and the rest of the wonderful authors and organizers of RomCon 2015! Congratulations to whoever wins my door prize. I hope you enjoy the gift bag!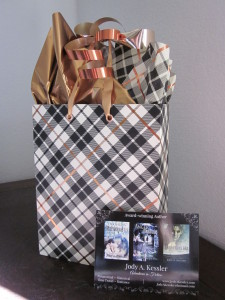 ______________________________________________________________________
Death Lies Between Us is the 2014 winner of RomCon's Readers' Crown Award for Best Paranormal Romance with a score of 9.4!
______________________________________________________________________
Check back for more events.