Some Girls Like It Hot and We Do Too!
We're treating romance readers to a hot, summertime giveaway. You could win a Kindle Fire HD 10 Tablet with Alexa ($299 value), Kindle Fire HD 8 with Alexa, a Kindle Fire 7 with Alexa, or one of two Amazon $25 gift cards.
Grand Prize Giveaway June 1-12
and Facebook Hop June 9-12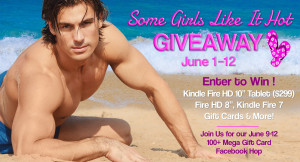 Plus, join us here on Facebook June 9-12 for the Some Girls Like It Hot Facebook Hop. This is a mega gift card event. With over 100 authors participating and a gift card at every stop, that's 100+ chances for you to win!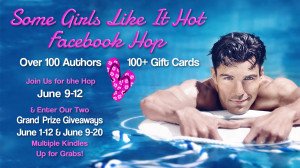 Facebook Hop June 9-12
http://somegirlslikeithot.blogspot.com/p/the-hop_29.html
Have Fun & Good Luck!
~ Sponsored by these 53 authors ~
Alyson Hale • Amy Knupp • Astrid Arditi • Cailin Briste • Cheryl Matthynssens • Christa Paige • Constance Phillips • Cynthia Clement • Debbie White • Eden Rose • Elizabeth Rose • Elizabeth SaFleur • Emily Leigh • Enigmatic Books • Felicia Beasley • Gayle Parness • Jeanne St. James • Jenna Barwin • Jennifer Allis Provost • Jennifer Wilck • Joanne Dannon • Jody A. Kessler • Josie Litton • Katie O'Sullivan • Kris Michaels • Kristina Knight • Laura Marie Altom • Lynda Haviland • Margo Bond Collins • Marie Booth • Melissa McClone • Mia Ford • Michelle Jo Quinn • Nancy Segovia • Olivia Wildenstein • Peggy Jaeger • Romance Author Quinn • Saint Brothers Series • Sarah Williams • Siera London • Sophia Knightly • Soraya Naomi • Sorchia Dubois • Stacy Gold • Stella Marie Alden • Stephanie Julian • Stephanie Queen • Sydney Aaliyah Michelle •  Tamara Ferguson • Tania F. Walsh • Victoria Pinder • Aileen Harkwood 
I hope you will join me and many of the authors from the Hunks to the Rescue Box Set in our Facebook Hop starting on June 9th! There's a prize at every stop and a special prize for the winner of the hop!
Hunks to the Rescue releases June 13th!
★ღ★ Get ready for a book bundle that will set your ereader on fire! Heroes by day… sexy bad boys by night! ★ღ★ ~ .99 cents for a limited time!
Amazon – https://www.amazon.com/dp/B06XNQ583Y/
iBooks – https://itunes.apple.com/us/book/id1221660799
Barnes & Noble – http://www.barnesandnoble.com/w/hunks-to-the-rescue-margo-bond-collins/1125960767?ean=2940154259252
Kobo – https://www.kobo.com/us/en/ebook/hunks-to-the-rescue
Don't forget to enter to win in the MEGA Author Giveaway <3 https://www.rafflecopter.com/rafl/display/9e8ffb0315/