Fall in Love YA Giveaway Feb 8-15!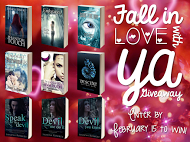 If you enjoy well-written YA fiction featuring feisty characters and sizzling supernatural creatures that span the spectrum from ghosts to mermaids to angels, then do yourself a favor and take a chance with the Fall in Love with YA Giveaway.
3 $10 Amazon Gift Cards
ebook  of Phantom Touch by Jessica Hawke
eBook of Crow Moon by Shawna Romkey
eBook of Speak of the Devil by Shawna Romkey
eBook of The Devil Made Me Do It by Shawna Romkey
eBook of The Devil You Know by Shawna Romkey
eBook of Tiva Boon: Royal Guardian by Jenn Nixon
eBook of Descent by Katie O'Sullivan
eBook of Embrace by Cherie Colyer
eBook of Some Fine Day by Kat Ross
eBook of Death Lies Between Us by Jody Kessler
Giveaway runs from February 8 to February 15. Winners will be notified by email by February 19th. Please share with your friends and spread the word about this awesome giveaway!