I ate kale and I liked it.
How is this possible?! you ask? Seriously, before today I was under the impression that kale is a close cousin to crabgrass, except crabgrass tastes better.
So here's my secret to enjoying kale. (I think I actually love it now!)
–> Add potatoes, Italian sausage, and bacon. Oh, and some cream, broth, and a dash of cayenne pepper.
I made Zuppa Toscana. It's a wonderful hearty soup with tons of kale.
Here's my recipe:
Ingredients
• 1 pound Italian sausage (spicy)
• 3-4 russet potatoes, cut into bite-sized cubes
• 1/2 onion, chopped
• 2 tablespoons garlic, minced
• 32 ounces chicken broth
• 1/2 bunch kale (or swiss chard), destemmed and cut/torn into bite-sized pieces
• 1 cup heavy cream (or half-n-half if you want to save a few calories)
• Salt and pepper to taste
• Cayenne pepper to taste (a dash or two is enough)
• 1/4 cup bacon, cooked and chopped
Directions:
Brown Italian sausage in a sauté pan. (I remove the excess fat on a paper towel before adding to the pot.)
Place sausage, chicken broth, garlic, potatoes and onion in a large pot. Add just enough water to cover the vegetables and meat.
Cook until potatoes are soft.
Add the kale, salt, pepper, and cayenne to taste. Cook the kale for 5-10 minutes or until the kale is tender.
Add the cream and bring the soup back to boiling. Turn off the heat. Stir in the crumbled bacon and serve.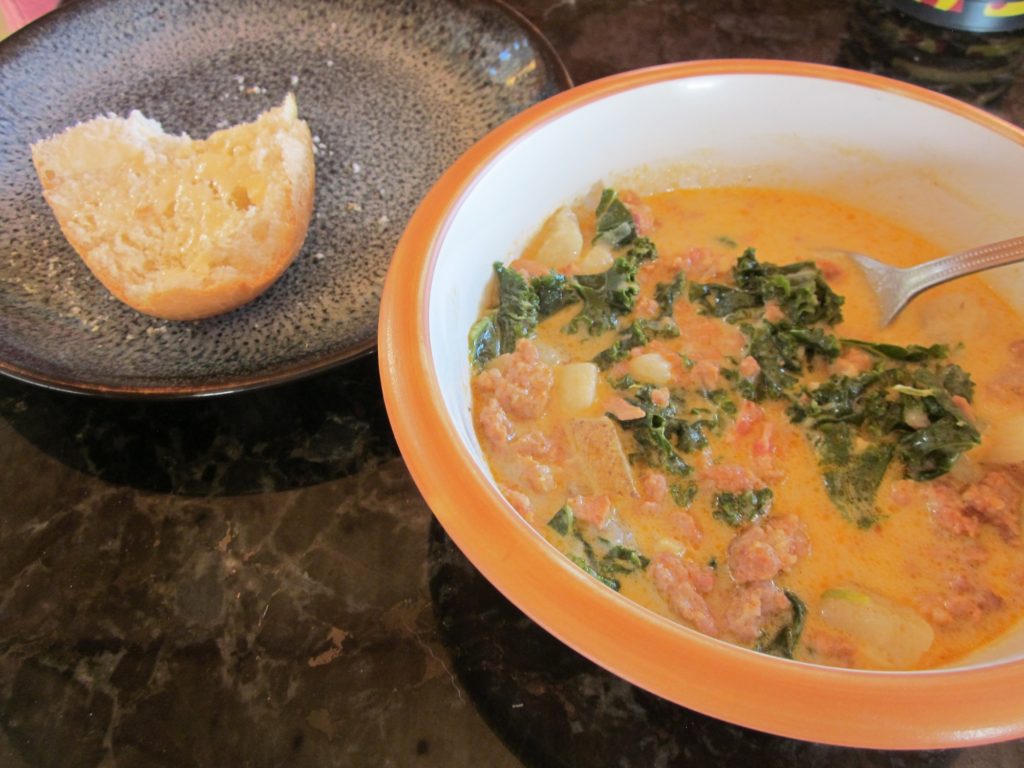 ~*~*~*~
This is one of my favorite comfort soups. (Forgive my poor picture. My camera changed the color a little bit.)
You too, can join the health food craze and eat your kale! – just kidding – but seriously, this recipe is really good. Some people substitute Swiss chard or spinach, but spinach is a lot softer and turns to mush easily, whereas the kale does not. And let's not discuss Swiss chard. I'm not that brave yet. 😉
By the way, Zuppa Toscana pairs well with bread and butter, wine, and a good book! – lol
Side note: the leftover kale tastes great in an omelet or egg scramble. Be sure to add some mixed veg like bell peppers and some cheese & enjoy!
Cheers from my kitchen to yours,
Jody A. Kessler