A Behind the Scenes Look at A Witch's Fate  – A Witches of Lane County novel included in the Dark Fates box set.  ~ An interview with USA Today Bestselling Author, Jody A. Kessler   *BONUS* A $100 Amazon Gift Card Giveaway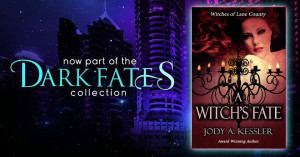 About the novel
A Witch's Fate – Witches of Lane County – Brand new paranormal romance by Jody A. Kessler
Tori Morgan is a modern-day witch from Lane County—and she's cursed. Falling in love is not in Tori's astrological chart, her cards, or anywhere else in her plans for the future. Falling for a skeptic who debunks the paranormal for a living is even less likely.
Leif Andersen doesn't believe in magic or the paranormal. When he's hired to investigate the mysterious death of former Hollywood actress and humanitarian, Delana Smootz, Leif is led straight to Tori Morgan's door. There's no way he's going to fall for Tori or her woo-woo mysticism, no matter how magical she feels in his arms.
Sparks fly and an undeniable attraction sizzles as Tori and Leif travel the globe in search of a suspect and the answers to Delana's supernatural downfall.
Here's a few extra details you may want to know about A Witch's Fate:
Is the magic in the book out of the closet, so to speak, or is the world of magic still underground?
The existence of magic, and the witch and wizard community, is still underground. Even though the witches live among the general population, their magical abilities are not practiced openly. The world in A Witch's Fate is set the present day, but there is an entire magical community living, working, and interacting along-side the non-magical people.  This type of world building is comparable to the Harry Potter series or the Harry Dresden novels – two of my favorite series by the way. One of the differences in the Witches of Lane County series is that A Witch's Fate contains steamy romance, and the murder mystery is the subplot.
What is the setting for the novel?
A Witch's Fate is mainly set in Portland, Oregon. Portland is where Tori Morgan – the heroine of A Witch's Fate – lives and works as a psychic/medium/healer for private clients.  She's a Morgan witch from Lane County, OR.  The family home is on the coast about 3.5 hours from the city.  The women in her family have endured a 500-year-old curse that makes marriage an unachievable dream.  Tori moved to the city and away from her childhood home and magical family members as soon as she could.  She loves her family, but she doesn't want to live in the country. She's definitely a city girl.  The main characters, Tori and Leif, also take a trip around the globe to a resort hotel in the mountains of the Ukraine in search of a suspect.
What was the inspiration for the novel?
A Witch's Fate was born from Heart of the Secret – A Witches of Lane County Novella, and it's a fun sexy novel full of magic, mystery, and romance.
Tori first made an appearance in Heart of the Secret. She was a feisty, hot tempered, and skilled witch, and an intriguing character from the very moment I envisioned her.
In Heart of the Secret, Tori returns home to Lane County to escape a precarious and messy situation with the man she is currently seeing in Portland. I immediately started imagining Tori's story. She's determined to never marry or get involved in a serious relationship because of her family curse. I knew there would be someone who could crack her resolve and warm her heart to the idea of dating exclusively — and maybe even falling in love.  *In walks Leif Andersen- the extremely sexy paranormal investigator and skeptic.*
**If you don't already know what happens between these two fiery characters, you'll have to read the novel to see how Leif wins Tori's heart.
Thanks for visiting with me today. If you have any questions, please post 'em in the comments and I'll answer as soon as I can!
Cheers and happy reading,
Jody A. Kessler
Dark Fates is available on Amazon and included in Kindle Unlimited.
Enter HERE for a chance to win a $100 Amazon Gift Card.