A short excerpt from Death Lies Between Us.  The first kiss…
He turns to stand in front of me, silent as a shadow. His hand lifts out of the dark. His fingertips brush the underside of my chin gently tipping my face up to his. How does he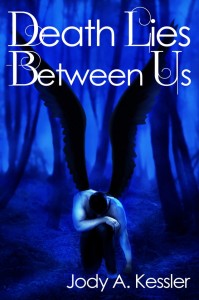 move and make no sound?  His fingers move to my temple, brushing away a hair then trailing down to the edge of my jaw where they halt. He watches my face and looks into my eyes. I feel a surge of loneliness from somewhere deep inside him. I don't understand it or have time to dwell on it but it makes me want to hold onto him. His gaze lowers to my mouth.
He's so close. I didn't see it before, but he glows. The slightest iridescent shimmer encapsulates him, so totally different than the way Chris's aura looked. He smells good too, like I remembered, and more. It's so familiar, but I can't say where from. The ozone smell of clean air after a storm and hints of cinnamon and honey swirled in cream. It's intoxicating. Even the feel of him standing near me is like a caress passing over my skin. I can't believe myself. I'm going to let this vague stranger kiss me, and I want him to.
First kiss……or is it? You'll have to read the novel to find out what happens.