Welcome Danielle DeVor! Do any of you readers like dark fantasy? Wow – this novel looks fantastic! Keep reading if you would like to learn more about Ms. DeVor's new release. And, keep scrolling if you would like to enter the rafflecopter.
On the back cover of Sorrow's Edge:
Finding the truth can sometimes be harder than exorcising a demon…
Jimmy Holiday, defrocked priest- turned- exorcist, is trying to make sense of his life. With his on-again-off-again witchy girlfriend moving in, Lucy- the spirit from his last exorcism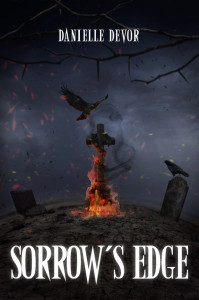 hanging around, and a secret organization of exorcists hounding him, Jimmy is feeling the stress.
When a stranger calls in the middle of the night asking for help with a possession, Jimmy is puzzled. Especially when the dude on the phone says he got his number from Jimmy's old mentor. Too bad his mentor has been dead for several years.
After a mysterious silver flask arrives at his doorstep, Jimmy is left with two options: either ignore the phone call and the flask, or listen to Lucy and travel to Arizona to solve the mystery before all hell breaks loose- literally.
Genre: Dark Fantasy
Series: Book 2 of the Sorrow's
About the Author:
Named one of the Examiner's 2014 Women in Horror: 93 Horror Authors You Need to Read Right Now, Danielle DeVor has been spinning the spider webs, or rather, the keyboard for more frights and oddities. She spent her early years fantasizing about vampires and watching "Salem's Lot" way too many times. When not writing and reading about weird things, you will find her hanging out at the nearest coffee shop, enjoying a
mocha frappuccino. Visit her at danielledevor.wordpress.com
Buy Link for Sorrow's Edge:
Links for Danielle:
Twitter: @sammyig
Facebook: http://www.facebook.com/danielledevorauthor
Goodreads: http://www.goodreads.com/DanielleDeVor
Website: http://danielledevor.wordpress.com