It's finally here! ~ The cover for Chasing Treasure – NEW Granite Lake Romance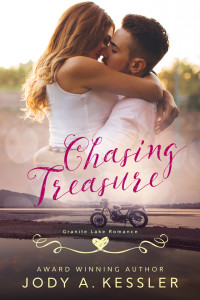 Chasing Treasure – Granite Lake Romance
"Exciting, steamy, romance that's heartfelt and entertaining!" – New York Times Bestselling Author Nancy Segovia
Treasure Vogle wondered if anything else could possibly go wrong. Her job as a paramedic is on the line due to absurd sexual assault charges, and now her apartment is flooded. After spending the winter apart, Treasure can't stop thinking about her former paramedic partner, Bodie Everett. But, with her unfortunate history of dating, and an overwhelming fear of commitment, Treasure doesn't know how she'll react when Bodie returns from training at Wilderness School. Or, if the irresistible and sexy, Bodie, wants to continue where they left off back in December. With nowhere else to go, Treasure heads to Granite Lake and back to her childhood home—a rundown apartment and a garage packed full of motorcycles.
Now that Bodie has new Search and Rescue certifications under his belt, he's ready to move forward with his life. He hopes that includes a relationship with Treasure. After an unforgettable night together, he can't seem to shake her from his head or his heart. He's ready to take their friendship to the next level, but his intruding family members have their own agenda. Opening a brewpub with his brothers, joining the Mountain Division of Search and Rescue, and the surprise return of his ex-fiancé complicate and distract Bodie from chasing and catching Treasure.
Reserve your copy on Amazon for $2.99. The e-book will be delivered to your Kindle on April 6, 2017.
This is the follow up to Unwrapping Treasure – A Granite Lake Romance Novella, and can be read as a standalone novel.
In case you missed Unwrapping Treasure, you can find a copy at these retailers: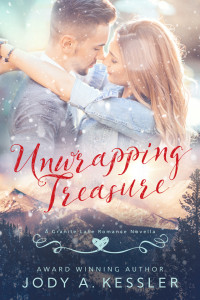 Amazon, Barnes & Noble, Kobo, iBooks, Smashwords – only $0.99 cents
Paramedics Treasure and Bodie never imagined their Christmas Eve night shift could turn into a dangerous and sexy holiday escapade that changes their lives forever.
A Special Gift For You
Unwrapping Treasure will be featured in the upcoming box set – Hunks to the Rescue (Releases in May 2017) Download a FREE printable Hunks calendar featuring Bodie Everett from the Granite Lake Romance Series. Click the image or Download HERE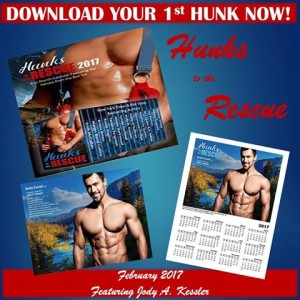 This is a gift to you from the authors of the Hunks to the Rescue box set.
A full 15 month calendar will be available in March. But for now you can have February and a Year in Review version to enjoy with Bodie on the cover!
This calendar is designed to print on a regular home printer with 8.5″ x 11″ paper.
I would love to hear your thoughts on the new book cover! Leave a comment or message below. If you join the newsletter, you will receive sneak peeks and special offers before they're posted anywhere else. You can subscribe on my contact page.
Happy reading,
Jody A. Kessler