A Behind the Scenes Look at A Witch's Fate  – A Witches of Lane County novel included in the Dark Fates box set.  ~ An interview with USA Today Bestselling Author, Jody A. Kessler   *BONUS* A $100 Amazon Gift Card Giveaway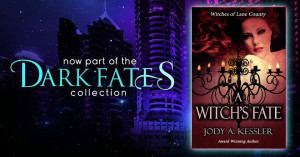 About the novel
A Witch's Fate – Witches of Lane County – Brand new paranormal romance by Jody A. Kessler
Tori Morgan is a modern-day witch from Lane County—and she's cursed. Falling in love is not in Tori's astrological chart, her cards, or anywhere else in her plans for the future. Falling for a skeptic who debunks the paranormal for a living is even less likely.
Leif Andersen doesn't believe in magic or the paranormal. When he's hired to investigate the mysterious death of former Hollywood actress and humanitarian, Delana Smootz, Leif is led straight to Tori Morgan's door. There's no way he's going to fall for Tori or her woo-woo mysticism, no matter how magical she feels in his arms.
Sparks fly and an undeniable attraction sizzles as Tori and Leif travel the globe in search of a suspect and the answers to Delana's supernatural downfall.
Here's a few extra details you may want to know about A Witch's Fate:
Is the magic in the book out of the closet, so to speak, or is the world of magic still underground?
The existence of magic, and the witch and wizard community, is still underground. Even though the witches live among the general population, their magical abilities are not practiced openly. The world in A Witch's Fate is set the present day, but there is an entire magical community living, working, and interacting along-side the non-magical people.  This type of world building is comparable to the Harry Potter series or the Harry Dresden novels – two of my favorite series by the way. One of the differences in the Witches of Lane County series is that A Witch's Fate contains steamy romance, and the murder mystery is the subplot.
What is the setting for the novel?
A Witch's Fate is mainly set in Portland, Oregon. Portland is where Tori Morgan – the heroine of A Witch's Fate – lives and works as a psychic/medium/healer for private clients.  She's a Morgan witch from Lane County, OR.  The family home is on the coast about 3.5 hours from the city.  The women in her family have endured a 500-year-old curse that makes marriage an unachievable dream.  Tori moved to the city and away from her childhood home and magical family members as soon as she could.  She loves her family, but she doesn't want to live in the country. She's definitely a city girl.  The main characters, Tori and Leif, also take a trip around the globe to a resort hotel in the mountains of the Ukraine in search of a suspect.
What was the inspiration for the novel?
A Witch's Fate was born from Heart of the Secret – A Witches of Lane County Novella, and it's a fun sexy novel full of magic, mystery, and romance.
Tori first made an appearance in Heart of the Secret. She was a feisty, hot tempered, and skilled witch, and an intriguing character from the very moment I envisioned her.
In Heart of the Secret, Tori returns home to Lane County to escape a precarious and messy situation with the man she is currently seeing in Portland. I immediately started imagining Tori's story. She's determined to never marry or get involved in a serious relationship because of her family curse. I knew there would be someone who could crack her resolve and warm her heart to the idea of dating exclusively — and maybe even falling in love.  *In walks Leif Andersen- the extremely sexy paranormal investigator and skeptic.*
**If you don't already know what happens between these two fiery characters, you'll have to read the novel to see how Leif wins Tori's heart.
Thanks for visiting with me today. If you have any questions, please post 'em in the comments and I'll answer as soon as I can!
Cheers and happy reading,
Jody A. Kessler
Dark Fates is available on Amazon and included in Kindle Unlimited.
Enter HERE for a chance to win a $100 Amazon Gift Card.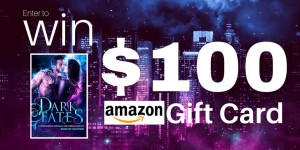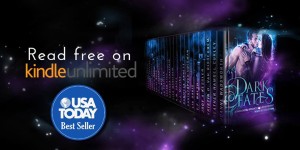 _______________________________________
My sincere apologies if Amazon sent you the wrong book file of Dark Fates.
Indie authors sometimes band together and bring readers incredible box set collections. We do this for many different reasons. Personally, I like to collaborate with other authors in my genre (or similar genres) because it's fun and working with a variety of brilliant authors teaches me a great deal about marketing and promotions. The readers get an unbelievable deal and the opportunity to sample many authors' work for mere pennies! The authors benefit by reaching a broader audience. Everyone wins.
So when 3 months of hard pre-order work is squashed by Amazon making a ridiculous mistake and sending out nearly 4 thousand wrong book files, everyone loses.
But wait, there's more. I won't let one soul-crushing moment from Amazon delivering the wrong book to my precious and appreciated readers ruin the day –
HERE'S a FREE offer from the authors of Dark Fates –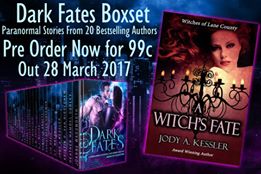 If you would like a free ibooks or B&N copy of Dark Fates, sign up by clicking the appropriate link below. This is our way of trying to fix the problem and make things right after the mega-huge-mongo-enormous bookseller screws up and crushes 22 authors' dreams at once.
FREE iBooks copy – PLUS you're entered to win an itunes Gift Card:  CLICK HERE (sorry – ibooks giveaway is over. You can still purchase a copy though

.)
FREE Barnes & Noble NOOK copy: CLICK HERE
***Because the authors have to collect names and emails, your free book from ibooks & Barnes and Noble may take a couple of days before it is gifted to you.
If you don't want to wait, you can purchase Dark Fates right now for only 99 pennies:
Thank you for your patience and understanding.
This situation is truly out of my control and I am stuck waiting on my own copy of Dark Fates from Amazon just like you are. Does this surprise you? – of course I preordered my own book.
I can guarantee that I'm just as excited to see my published novel as much as any die-hard fans are. Being published is one of the most exciting days in an author's life.
Amazon stated that they are working on correcting the problem. I sincerely hope they are and you receive your book soon.
Dark Fates is available now – at all OTHER major online ebook retailers.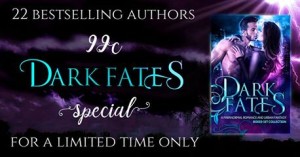 ______________________________________________
So…I wrote a certain book last year.
It happened. I actually write sometimes when I'm not on facebook – (darn internet is always distracting me.)
Here's the thing:
This particular book triggers the ever-loving crap out of people – in nearly bi-polaresque emotional latitudes. — I did not see this coming when I hit the publish button.
Here are some gems from the reviews the book has received:
***
"This story was so special. It moved me in a way a book hasn't for a while, and I'm so glad I picked it up."
***
"I found her character (Caspar) and also how Jasper responded to her advances to be incredibly offensive and really don't believe that any young readers should read a book in which a diverse character is hated on and also poorly represented."
***
"I have conflicted feelings about this book."
***
"The girl we start out with is not the girl we end up with – and I love that."
***
"This is a beautifully written book & a wonderful story…"
***
"What I loved about this book is the way the author used metaphors, and quotes to give a very unique aspect to this story. Loved how the author really went into how a young adult (19 year old, don't confuse with genre) thinks, and rationalizes when they have lived in bad circumstances in life, and finding themselves with some romance without it being the main focus."
~~~
One reviewer highly suggested I put a content/trigger warning on the book description because of the abuse scenes. (They're not graphic, but emotional and horrible none the less.)
~~~
Have I done my job as a writer and made the reader feel something? — even if it's bad? Did I fail miserably by not writing to market and stepping away from my other genres?
Do these mixed reviews make me question whether or not I shouldn't have published this book in the 1st place?
Does anyone read coming-of-age edgy novels that push emotional boundaries and ask questions about life from a NA perspective?
I have my answers, but my answers are not your answers. That's what is amazing and wonderful about fiction. Everyone perceives things in their own beautiful and unique way.
Here is my Novel Warning:
Do not read this book if you are sensitive about dysfunctional relationships and abuse scenes.
Do not read this book if you do not like coming-of-age stories.
Do not read this book if you think I have a LGBTQ agenda (I absolutely do not, btw. I couldn't care less about the gender of the person you choose to include in your life and relationships. The fact that ONE character is bisexual does not mean I am representing a community of people. smh)
Do not read this book if you don't like the writing style or the POV.
Do not read this book if you don't like quotes. — there's quotes and metaphors throughout the novel.
And you should absolutely not read this book if you can't watch a young woman make bad choices, learn how to correct them and start her life over again.
READ this book if any of the above reviews sound like something you would enjoy!
I seriously appreciate all honest reviews! But, wow, this book in particular is making me want a pseudonym. <3
Did I write my heart in this novel? Yes, I did. Does that mean everyone will enjoy it? No, it doesn't. Did I make an attempt to entwine wisdom, courage, creativity, unconditional love, forgiveness, passion, confusion, heartache, life lessons, entertainment, and so much more into this book? Yes, that was my goal.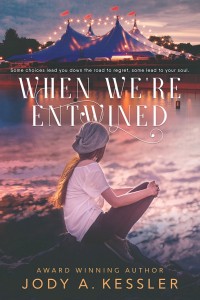 "When We're Entwined is a gripping, emotional modern day adventure with a glimpse of alternative lifestyles in America as one vibrant, young aerial gymnast realizes cruelty and injustice can be outweighed by kindness, humor, and compassion with the help of a most unlikely and wildly colorful cast of characters."
Wishing you all the best,
Jody
__________________________________________

Spotlight ~ The Guardian, a Sword, & Stilettos by Kristin D. Van Risseghem
Today's spotlight author: Kristin D. Van Risseghem
Novel featured in the Dark Fates boxed set: The Guardian, a Sword, & Stilettos
The Guardian, a Sword, & Stilettos by  Kristin D. Van Risseghem
Zoe Jabril could be just another 17-year-old girl attending parties with her friends and checking out cute guys—except her best friend is a Guardian Angel, and the boy she crushes on is a Nephilim, half-angel, both sent to Earth to protect her. A high school classmate happens to be a trendsetting shopaholic fairy. And now there's a new werewolf in town.
Zoe has to deal with her feelings toward Shay, who spreads a strange electrical current through her body every time he touches her. Now Zoe is under constant attack from demons, trying to kill and stop her from fulfilling the Prophecy: a girl will be born who will unite the Enlightens to battle evil. Then on top of that, between boring homework and drama with girls at school, she has to control new found talents if she's to prevent the devil from escaping Hell.
In order to do so, Zoe must devise a kick-ass plan ASAP or watch everyone die, because she's running out of time. She turns eighteen in two months—the date Armageddon kicks off.


Kristin D. Van Risseghem grew up in a small town along the Mississippi River with her parents and older sister. Currently, Kristin lives in Minnesota with her husband and two Calico cats. She also loves attending book clubs, going shopping, and hanging out with friends. She has come to realize that she absolutely has an addiction to purses and shoes. They are her weakness and probably has way too many of both.
In the summer months, Kristin can usually be found lounging on her boat, drinking an ice cold something. Being an avid reader of YA and Women's Literature stories, she still finds time to read a ton of books in-between writing. And in the winter months, her main goal is to stay warm from the Minnesota cold!
Kristin's books are published by Kasian Publishing. The first book in the series entitled: The Guardian, a Sword, & Stilettos has won the 2015 New Apple Award in the Fantasy category.
____________________________________________
Today's spotlight author is me! Thanks for stopping by. I can't wait for my new novel to be published!
Novel featured in the Dark Fates boxed set: A Witch's Fate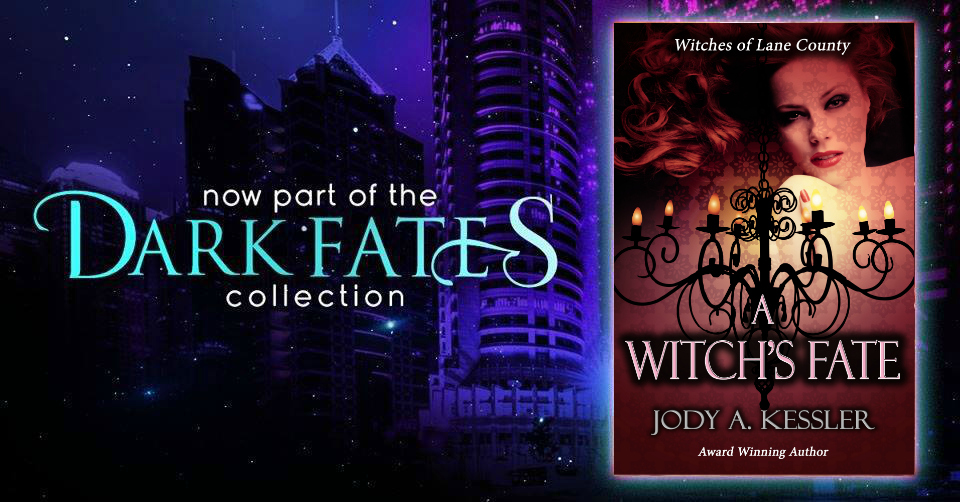 This is a brand new novel in the Witches of Lane County series. I hope you enjoy it as much-or MORE-than I did writing it!
A Witch's Fate (Witches of Lane County) by Jody A. Kessler
Tori Morgan is a modern-day witch from Lane County—and she's cursed. Falling in love is not in Tori's astrological chart, her cards, or anywhere else in her plans for the future. Falling for a skeptic who debunks the paranormal for a living is even less likely.
Leif Andersen doesn't believe in magic or the paranormal. When he's hired to investigate the mysterious death of former Hollywood actress and humanitarian, Delana Smootz, Leif is led straight to Tori Morgan's door. There's no way he's going to fall for Tori, or her woo-woo mysticism, no matter how magical she feels in his arms.
Sparks fly and an undeniable attraction sizzles as Tori and Leif travel the globe in search of a suspect and the answers to Delana's supernatural downfall.
Jody A. Kessler is the winner of the Readers' Crown Award for Best Paranormal Romance and an international bestselling author. She writes paranormal romance, historical time travel fiction, and contemporary fiction. Jody invites you to stop by her website and see what's new at: www.JodyAKessler.com  Subscribe to the newsletter and receive a free eBook.
Jody A. Kessler online: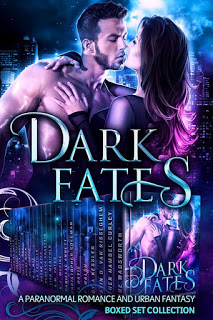 Website | Twitter | Facebook | Amazon

Pre-order Dark Fates for just 99¢ 
and read A Witch's Fate along with 21 more deliciously dark urban fantasy and paranormal romance novels by bestselling authors.
_______________________________________________
Highlander's Sword by Joanne Wadsworth – Dark Fates Box Set Collection
Today's spotlight author: Joanne Wadsworth – Check out this gorgeous book cover and read an excerpt from the novel.
Novel featured in the Dark Fates boxed set: Highlander's Sword
Highlander's Sword by Joanne Wadsworth

There can be only one…for both of them.
Year 1210, Scottish Highlands.
Annella, the fae-blooded daughter of a warrior, holds the spirit-walker ability. With her fae skill, she has only one goal, to find the man who captured her father and brother and seek retribution. The last thing she expects though is to connect within her dreams with an infuriatingly rugged Highlander of shifter blood who lives over eight-hundred years in the future. Her destiny is set, to free her nearest and dearest, although to find them she must now enlist the aid of the warrior from the future. He's the best tracker there is, and also her best chance at finding them.
Highland warrior shifter Alec Matheson meets the most intriguing lass who visits him in his dreams, a woman who also poses the greatest challenge. His soul bound mate has come to him during her greatest time of need, and now he must travel back through time to aid her. His lithe, golden-haired enchantress wears lad's clothing and is swift with the sword and trained in all manner of warfare. She is also nothing like he expects, yet everything he has ever desired.
Now, he must make certain they both survive her perilous mission, for seeking retribution could ensure their death, or unite their spirited souls. Let the battle for love begin.
Highlander's Sword excerpt:
Up the stairs to the battlements, Alec bolted then stopped behind the woman who had every hair on his neck rising. He breathed deep, drew in Annella's intriguing fragrance, one that held the golden and glittery enchantment of a night sky teeming with stars. Her scent evoked the dream realm she traveled within, and made his lower region harden with lust. She stared up at the blood moon as if it intrigued her, her long golden tresses fluttering in the breeze and whispering over his arms and chest. Hell, she was so small of stature, the sword belted at her side all that gave any indication she in fact knew how to battle.
Carefully, he spread his hands over her hips, then determined to prove his point, that she wasn't his chosen one, he muttered, "Those who are soul bound can never harm the other, but all I want to do right now is sink my claws into you and rip you apart. You need to steer well clear of me, to leave and never return."
"Since the night we met"—she turned in his embrace and he retracted his claws for fear he'd actually scratch her—"you've grumped and growled and snapped at me to be gone, but through it all I still sensed within you a deep need to have someone close. I am here if you wish to talk, can provide quite the listening ear if you were but prepared to accept me. We are meant to be together. A bond certainly wouldnae have formed between us otherwise."
"I'm a warrior, born and bred. I fight, draw blood and have no issue doing so." It would take only one wrong move on his part and he could so easily kill her. Why couldn't she see that? "I fight within my clan's specialist team who work high level government cases, and out of all my kin, I'm the one who gets called away from Ivanson Castle the most. My beast isn't just aggressive, he's bloodthirsty, which makes him the perfect assassin when needed to take down the vilest of criminals."
"I've chased a few vile criminals myself." She dissolved into a wisp and swirled around then reemerged behind him with her sword in hand. She tapped the tip of her blade against his belted sword. "Arm yourself and train with me for what remains of this night. I must be fully prepared to fight Duncan MacKenzie when I find him. I cannae lose my coming battle with him if I wish to free my father and brother."
"You shouldn't be fighting anyone on your own, and certainly not a warrior who managed to capture both of your closest kin." He lunged, grasped her sword hand, his fingers sliding through nothing but air as she wisped back farther and reappeared.
"Nay, you willnae catch me out that easily, my mighty bear."
"I'm not your damn mighty bear."
"Please, that is no way to talk to a woman, and your chosen one at that." With a wink, she wagged a finger at him, her royal blue tunic cinched in at her tiny waist with a golden tasseled belt that swayed to her knees as she moved. Her black breeches, of the softest rawhide, molded her legs and that pert backside of hers, which he really shouldn't have noticed, wiggled as she moved.
"I don't see you as a woman, but as a lethal opponent."
"Then raise your blade."
"Training with me is a very bad idea." Still, he slid his sword free of his scabbard and rocked from foot to foot, his beast always prepared for any form of fighting. Perhaps if he trained with her then she'd realize how dangerous he was, leave then hopefully never come back. It was a plan at least. He'd grump and growl a whole lot more as he battled with her, make sure she understood just how fierce and grizzly he could get. That should scare her away.
Joanne Wadsworth is a USA Today Bestselling Author who adores getting lost in the world of romance, no matter what era in time that might be. Hot alpha Highlanders hound her, demanding their stories are told and she's devoted to ensuring they meet their match, whether that be with a feisty lass from the present or far in the past.
Living on a tiny island at the bottom of the world, she calls New Zealand home. Big-dreamer, hoarder of chocolate, and addicted to juicy watermelons since the age of five, she chases after her four energetic children and has her own hunky hubby on the side.
So come and join in all the fun, because this kiwi girl promises to give you her "Hot-Highlander" oath, to bring you a heart-pounding, sexy adventure from the moment you turn the first page. This is where romance meets fantasy and adventure…
Website | Twitter | Facebook | Amazon | B&N | Goodreads
_________________________________________________
Cover Reveal ~ Chasing Treasure ~ NEW Granite Lake Romance
It's finally here! ~ The cover for Chasing Treasure – NEW Granite Lake Romance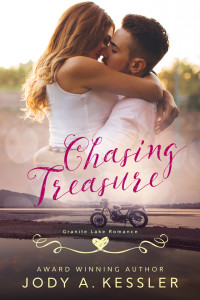 Chasing Treasure – Granite Lake Romance
"Exciting, steamy, romance that's heartfelt and entertaining!" – New York Times Bestselling Author Nancy Segovia
Treasure Vogle wondered if anything else could possibly go wrong. Her job as a paramedic is on the line due to absurd sexual assault charges, and now her apartment is flooded. After spending the winter apart, Treasure can't stop thinking about her former paramedic partner, Bodie Everett. But, with her unfortunate history of dating, and an overwhelming fear of commitment, Treasure doesn't know how she'll react when Bodie returns from training at Wilderness School. Or, if the irresistible and sexy, Bodie, wants to continue where they left off back in December. With nowhere else to go, Treasure heads to Granite Lake and back to her childhood home—a rundown apartment and a garage packed full of motorcycles.
Now that Bodie has new Search and Rescue certifications under his belt, he's ready to move forward with his life. He hopes that includes a relationship with Treasure. After an unforgettable night together, he can't seem to shake her from his head or his heart. He's ready to take their friendship to the next level, but his intruding family members have their own agenda. Opening a brewpub with his brothers, joining the Mountain Division of Search and Rescue, and the surprise return of his ex-fiancé complicate and distract Bodie from chasing and catching Treasure.
Reserve your copy on Amazon for $2.99. The e-book will be delivered to your Kindle on April 6, 2017.
This is the follow up to Unwrapping Treasure – A Granite Lake Romance Novella, and can be read as a standalone novel.
In case you missed Unwrapping Treasure, you can find a copy at these retailers: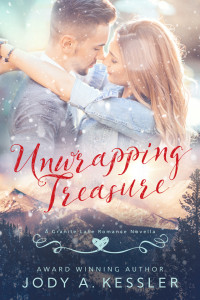 Amazon, Barnes & Noble, Kobo, iBooks, Smashwords – only $0.99 cents
Paramedics Treasure and Bodie never imagined their Christmas Eve night shift could turn into a dangerous and sexy holiday escapade that changes their lives forever.
A Special Gift For You
Unwrapping Treasure will be featured in the upcoming box set – Hunks to the Rescue (Releases in May 2017) Download a FREE printable Hunks calendar featuring Bodie Everett from the Granite Lake Romance Series. Click the image or Download HERE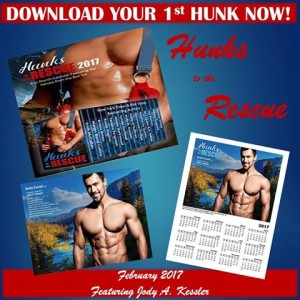 This is a gift to you from the authors of the Hunks to the Rescue box set.
A full 15 month calendar will be available in March. But for now you can have February and a Year in Review version to enjoy with Bodie on the cover!
This calendar is designed to print on a regular home printer with 8.5″ x 11″ paper.
I would love to hear your thoughts on the new book cover! Leave a comment or message below. If you join the newsletter, you will receive sneak peeks and special offers before they're posted anywhere else. You can subscribe on my contact page.
Happy reading,
Jody A. Kessler
_____________________________________________________
——————————————————————————————-
Author Spotlight – Angela Roquet – Dark Fates Collection
Today's spotlight author: Angela Roquet
Novel featured in the Dark Fates boxed set: Death at First Sight
Death at First Sight by Angela Roquet
Lia James would give anything to be normal.
International bestselling author Angela Roquet is a great big weirdo. She collects Danger Girl comic books, owls, skulls, random craft supplies, and all things Joss Whedon. She's a fan of renewable energy, marriage equality, and religious tolerance. As long as whatever you're doing isn't hurting anyone, she's a fan of you, too.
Angela lives in Missouri with her husband and son. She's a member of SFWA and HWA, as well as the Four Horsemen of the Bookocalypse, her epic book critique group, where she's known as Death. When she's not swearing at the keyboard, she enjoys painting, goofing off with her family and friends, and reading books that raise eyebrows.…
______________________________________________________________
_____________________________________________________________
It's been some time since I posted on the blog, but I'm back, and there is exciting news to share.
Death Lies Between Us (An Angel Falls #1) is FREE, June 1-5th on Amazon.
When We're Entwined is a coming-of-age, new adult novel that I hope you love as much as I do. Release date: June 29, 2016.
About the book:
"Do not judge me for where I stand today, until you know how far I've traveled to get here." — J. Pyrah, When We're Entwined
Former circus performer and aerial gymnast, Tara knows it's time to move on. Tired of the constant abuse and the emotional rollercoaster ride at home, she takes to the road to perform on stage with her boyfriend and his band, Paradox 21.
Drunken excursions and late night after-parties lead to an unfathomable betrayal by her boyfriend, Keel. Tara never imagined her summer tour would come to an abrupt end that lands her jobless, homeless, and broke in a city far from home. Unable to reach out to her emotionally distant and unstable mother and her abusive stepfather, a knight disguised as a homeless man gives Tara new perspective. And a punk named Corban, with his gemstone inspired eyes, takes her on a spontaneous road trip that ultimately lands her a job with the traveling sideshow, The Circus of Misfit Marvels.
As Tara searches for a freedom she has never known, she documents her journey by writing her most embarrassing, profound, excruciating, and soul-searching moments in letters to her sister. Despite heartache, love and loss, Tara finds immeasurable strength and wisdom during her travels in this unforgettable adventure of self-discovery.
~*~*~*~
"When We're Entwined is a gripping, emotional modern-day adventure with a glimpse of alternative lifestyles in America as one vibrant, young aerial gymnast realizes cruelty and injustice can be outweighed by kindness, humor, and compassion with the help of a most unlikely and wildly colorful cast of characters."
Cover reveal and pre-order coming very soon!
---
Love Potion #9 – a collection of 14 paranormal romance novellas and stories will be published September 1st. My contribution to this box set is a brand new never before seen Chris Abeyta ghost hunting novella.
Here is a sneak peek of the cover.
As some of you know, Chris Abeyta is a cranky, anti-social ghost hunter and Native American shaman from the An Angel Falls series. He'll be returning for a little mystery and unexpected romance with an astral traveling witch named Naomi in Love Potion #9. If you haven't already done so, join the newsletter and receive The Call for free – An Angel Falls novella & Chris Abeyta ghost hunting story. (Sign up is in the sidebar of the contact page.)
June Mega Giveaway & Book Sale
We're giving away 2 – $50 Amazon gift cards AND 2 Kindle tablets!  Click the link to check out some amazing deals on the books pictured below (Death Lies Between Us is FREE June 1-5th) and enter the rafflecopter for a chance to win.
Contest runs June 1 – 20th.
Click here to see the deals –> http://www.ebbrownbooks.com/vip-reader-rewards.html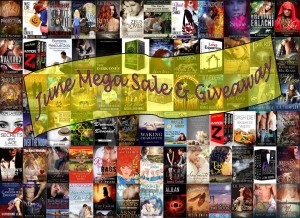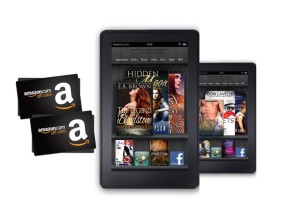 Go directly to the Rafflecopter HERE
(This giveaway is coordinated by E.B. Brown Books – she will contact the winners and distribute the prizes.)
Thank you for stopping by. Stay tuned for more updates, cover reveals, and giveaways. Good luck and happy reading!
Jody A. Kessler
______________________________________________________________
Looking for a little horror in your life? Look no further. Danielle DeVor is here to share her latest book release. She's also giving away a amazon gift card and crocheted doll — it sound's cute, and it is if you like possessed dolls. — Still interested? Keep reading to find out more about Sorrow's Point.

Not All Exorcists are Equal….One is Marked.
When defrocked ex-priest, Jimmy Holiday, agrees to help an old friend with his sick daughter, he doesn't expect the horrors that await him. Blackmoor, his friend's new residence, rests upon the outskirts of the town of Sorrow's Point. The mansion's history of magic, mayhem, and death makes it almost a living thing – a haunted mansion straight out of a Stephen King novel. Jimmy must decide if the young girl, Lucy, is only ill, or if the haunting of the house and her apparent possession are real.
After the house appears to affect him as well with colors of magic dancing before his eyes, rooms warded by a witch, and a ring of power in his voice, Jimmy is met by a transient who tells him he has "the Mark". Whatever being "marked" means, Jimmy doesn't care. All he wants to do is help Lucy. But, helping Lucy means performing an exorcism.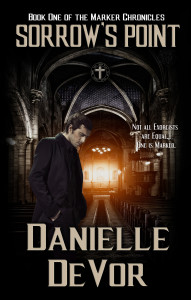 Purchase Links:
Amazon: http://www.amazon.com/Sorrows-Point-Marker-Chronicles-Book-ebook/dp/B0178RT5H6/ref=asap_bc?ie=UTF8
Barnes and Noble: http://www.barnesandnoble.com/w/sorrows-point-danielle-devor/1117032105?ean=9780986251641
Itunes: https://geo.itunes.apple.com/us/book/sorrows-point/id1053219178?mt=11&at=10l6Xd
Kobo: https://store.kobobooks.com/en-us/ebook/sorrow-s-point-1
Read an Excerpt
Jones crept around the side of the massive home. He looked this way and that like they taught him in the academy. This was the first time something serious had gone on in Sorrow's Point. He set his jaw, bound and determined to do the best damn job he could.
The sheriff's footprints pressed into the tall grass, making it easy for him to know where to look. They led him to the back of the house and stopped as soon as they reached the stone patio. Something smelled sour-sweet. Flies would be swarming along soon.  He walked up the steps and across to the door. The smell grew stronger, but he didn't notice anything else out of the ordinary. Suddenly, his foot slid and he almost fell.  His eyes drifted to the patio. A pile of puke almost the same color as the stone coated the bottom of his shoe. "Great."
Backing up a step, he wiped his shoe on the stone as best he could. Then, sidestepped the puddle and peered in the window. Black was there, sitting at a butcher block table, facing the window. His dark hair stood up from his head in all directions. Eyebrows arched like the Devil's own. The deep red blood covered him, almost from head to toe. He took another bite out of the small human leg he held in his large hands, grinding his teeth through the raw flesh.
"Oh shit." Jones shook, unable to release his death grip on the windowsill. Then, the world shifted.
Blam!
Jones peered down the smoking barrel of his gun, following the path through the broken window. He hadn't meant for the gun to go off. He didn't even remember reaching for his weapon. Black's chin slumped against his chest, the back of his head gone. Bits of gray matter stuck to the wall behind him. Black's fingers relaxed. The leg fell to the floor.
About the Author
Named one of the Examiner's 2014 Women in Horror: 93 Horror Authors you Need to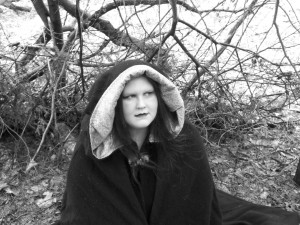 Read Right Now, Danielle DeVor has been spinning the spider webs, or rather, the keyboard for more frights and oddities. She spent her early years fantasizing about vampires and watching "Salem's Lot" way too many times. When not writing and reading about weird things, you will find her hanging out at the nearest coffee shop, enjoying a mocha frappuccino. Visit her at http://danielledevor.wordpress.com
Twitter: http://www.twitter.com/sammyig
Facebook: http://www.facebook.com/danielledevorauthor
Instagram: http://www.imstagram.com/danielledevor76
Blog: http://ddevor.weebly.com
Danielle is giving away for a $10 Amazon gift card and a crocheted_possessed_doll
Thank you for stopping by.
Happy reading,
Jody A. Kessler
——————————————————————————————–
Welcome back, Ms. Romkey. The 3rd book in the Speak of the Devil series is here at last! Books 1 & 2 were fabulous and fun YA novels! I really enjoyed both of them and I'm sure book 3 will be fantastic.
The Devil You Know ~ Speak of the Devil – Book 3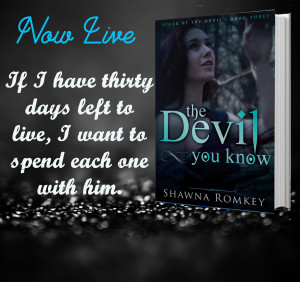 Holy Hell!
After battling her way back from Hell only to discover Luc didn't make it out, Lily must rally the angels to descend back into the Devil's domain. Now she has thirty days to rescue her angelic warrior boyfriend and break the curse to free God before Lucifer and his demon army destroy all of humanity on Earth. Forget passing the eleventh grade. Lily must face the ultimate final exam to give the Devil his due and save the world before the reapers catch up and deliver the death she cheated from them a year ago.
PURCHASE LINKS
Amazon US ~ http://amzn.to/1QNK0uI
Amazon CA ~ http://goo.gl/qLDVA5
Kobo ~ https://goo.gl/PDt97i
BN ~ http://goo.gl/0uyZmk
iBooks ~ https://goo.gl/coFJJs
Goodreads ~ https://goo.gl/WDo1f9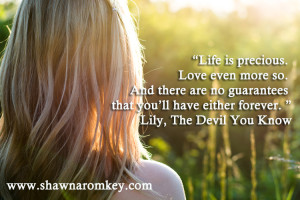 Read an Excerpt
"I can't see a thing," Belle said, leaning forward in her seat as if that would help. But I knew how this played out because I'd been here before. I was going to hit the water again, drown again, die again. My heart raced and though I wasn't in the water yet, I already had trouble breathing.
"Mike!" I yelled, and he reached for me as the car skidded to the edge of the bridge. Belle overcorrected and the car hit the side, bending the rail down, and over we went.
A brief instant passed. The silver sliver of the skinny moon's reflection glinted in the black water below as we headed straight for it.
"I got ya." Mike gripped my hand tightly. I closed my eyes and braced for impact.
All I could think was "unbelievable." Sarcasm. My last thought before dying was sarcastic. Perfect.
Then…impact. Painful, cold, breathtaking impact. This time Mike was ready. He opened the doors easily and pulled me from the car before it filled up and dragged us down to the dredges of the Missouri River. I blacked out.
I woke up lying in the mud on the side of the river. Belle and Mike glowed green as they healed me. I didn't see Heaven this time. I saw them hovering over me, while I coughed and choked back to consciousness.
"What the hell?" I managed to blurt out before another coughing fit took hold of me.
"We can't walk to the church," Belle said. "She's freezing now."
"We could try to take her with," Mike said and gave her a knowing glance.
She looked at me for a second, then shrugged. "We can try."
Mike helped me into a sitting position. "I'm going to try to take you with me the rest of the way to the church."
"Wait. What just happened?" I asked as I became more aware.
"I don't know. We had an accident," he said.
"Yeah, an accident just like the one that killed us before."
About the Author:
Shawna Romkey
Shawna grew up around farms in the heart of Missouri but went to the University of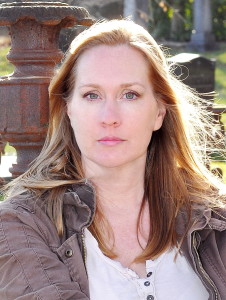 Kansas, was raised in the US but now lives on the ocean in Nova Scotia with her husband, two sons, an Irish wolfhound and a rescue mutt she loves to death. She's a non-conformist who follows her heart.
She has her BA in creative writing from the University of Kansas where one of her plays was chosen by her creative writing professor to be produced locally, and two of her short stories were published in a university creative arts handbook.  She earned her MA in English from Central Missouri State University where she wrote a novel as her thesis.
She's taught English at the university and secondary levels for close to twenty years and can't quite fathom how all of her students have grown up, yet she's managed to stay the same.  She's a huge geek and fan of Xena, Buffy and all kick ass women, and loves to write stories that have strong female characters.
Website: http://www.shawnaromkey.com/
Twitter: @sromkey
Facebook: https://www.facebook.com/Shawna-Romkey-Author-137998326331706/?ref=hl
Pintrest: https://www.pinterest.com/shawnarp/
Instagram: https://www.instagram.com/shawna_romkey/
Goodreads: https://goo.gl/cJIoxH
To celebrate her newest release, Shawna is giving away a $25 amazon gift card to one lucky person. 
Purchase a copy of any of the Speak of the Devil books to be entered to win a $25 Giftcard (Open US & Internationally). Just enter the information in the link and a winner will be contacted on February 28th, 2016.
http://goo.gl/forms/UihuUfFQKA
Thank you for stopping by & happy reading,
Jody
—————————————————————————————–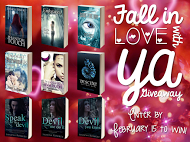 If you enjoy well-written YA fiction featuring feisty characters and sizzling supernatural creatures that span the spectrum from ghosts to mermaids to angels, then do yourself a favor and take a chance with the Fall in Love with YA Giveaway.
3 $10 Amazon Gift Cards
ebook  of Phantom Touch by Jessica Hawke
eBook of Crow Moon by Shawna Romkey
eBook of Speak of the Devil by Shawna Romkey
eBook of The Devil Made Me Do It by Shawna Romkey
eBook of The Devil You Know by Shawna Romkey
eBook of Tiva Boon: Royal Guardian by Jenn Nixon
eBook of Descent by Katie O'Sullivan
eBook of Embrace by Cherie Colyer
eBook of Some Fine Day by Kat Ross
eBook of Death Lies Between Us by Jody Kessler
Giveaway runs from February 8 to February 15. Winners will be notified by email by February 19th. Please share with your friends and spread the word about this awesome giveaway!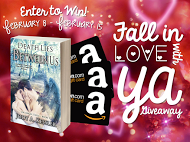 _______________________________________________________
This fund-raising anthology of Horror and Sci-Fi short stories was created to benefit Altoine Scarborough, a man in desperate need of a heart transplant. The stories, cover art, formatting, editing and compilation were all donated. Every penny of the royalties we receive will go to Al's GOFUNDME project. (MW)
Vampires to ghosts to monsters—and futures we won't want to see come true—fill this collection of dark stories that are sure to give you chills. This stellar, fan-favorite group, which includes award-winning and best-selling authors, brings a unique voice to some familiar and not-so-familiar creatures. Join Travis Luedke, C.N. Lesley, Danielle DeVor, Maer Wilson, Steven Ramirez, Jody A. Kessler, Louann Carroll, Ross G, Homer, M. Joseph Murphy, Robert P. Wills, Karenne Griffin, and Allan B. Anderson for a trip into the Darkness.
BROWN THE RECLUSE by Steven Ramirez – Ted Brown is a man slipping away from reality. Long estranged from his family and living in Seattle, he works at a job he no longer values and lately appears to be losing his memory. But when he discovers a spider in his apartment, that's when things get really interesting.
THE RAID by Maer Wilson – Gamers are often loyal to their teammates. When Aelan and her friends tackle an evil dragon, that loyalty goes far beyond what anyone expects.
THE BONES by Danielle DeVor – Sometimes, things leave a residue, like the smell left behind when toast is burned. When a medical student brings a skeleton home to study, her child's life will never be the same.
THE WHISPERING by Karenne Griffin – The small village of Gorland is horrified as their children kill themselves in what appear to be suicide pacts. But there is much more going on and only one child has the key.
THE DIARY OF A MADMAN by Robert P. Wills – Just because others don't see the ghosts, doesn't mean they aren't real.
THE CALL: AN ANGEL FALLS NOVELLA by Jody A. Kessler – Professional shaman and cranky, anti-social ghost hunter, Chris Abeyta, finds spirits and helps them cross over to the afterlife. In his latest case, he and Juliana Crowson find the ghost of a girl trapped by time and a heart-wrenching tale of a camping trip gone terribly wrong.
THE FOUNDLINGS: JENNY'S TALE by Louann Carroll – Technology meets morality when Jenny loses her only friend. Terrified and alone she must choose between reentering the world or living the rest of her life in the dark.
MUMANS by Ross G. Homer – He found love in the most unlikely place. But could he keep the love he found?
A TALE OF TWO QUEENS AND A FROZEN HEART by Allan B. Anderson – Reily, an experienced troubleshooter, is hired to find two teams who have gone missing in a frozen wasteland. But even his skills may not be enough to survive what he discovers.
THE VAMPIRE AND THE VALIANT WARRIOR by M. Joseph Murphy – A noble thief in search of ancient treasure stumbles upon the den of a sadistic vampire.
HELL IS NEVER FULL by C.N. Lesley – When the seed of hate is sown it puts forth shoots of malice that bear flowers of evil. Time has no meaning for revenge.
DREAMS OF NIGHTLIFE LAS VEGAS by Travis Luedke – An author has an unexpected encounter with one of his most dangerous – and sexy – creations.
For more information about Al's situation or to donate directly to his GoFundMe project, please check out these links below:
Any support to help save Al's life will be deeply appreciated.
Al's GOFUNDME Page – https://www.gofundme.com/l1911s
Al's Facebook Page – WE HEART AL – https://www.facebook.com/We-Heart-Al-611995988938764/
Amazon – THE DARK DOZEN – http://goo.gl/H8lsPo
To read more about Al's story and how this anthology came about, visit Maer Wilson's website.
Thank you for reading!
Jody
———————————————————————————————-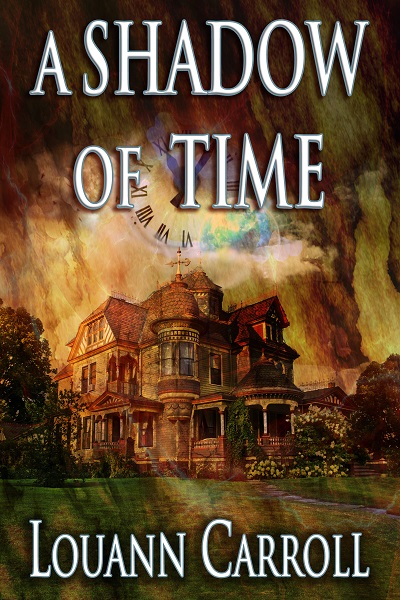 A SHADOW OF TIME
When young widow Kellyn O'Brien discovers her toddler has inherited the Shadow Ley fortune and estate, she thinks all of her problems are solved.
Unseen, a mysterious guardian dwells deep beneath the house. As the run-down mansion repairs itself, Kellyn is plagued by nightmares – windows into other dimensions that are as confusing as they are frightening.
Not sure what is real or imagined, Kellyn turns to her new friends for help. When they realize that their dreams are connected, they are determined to find the truth behind the unbelievable coincidence.
But the presence at Shadow Ley has something more diabolical in mind. And the friends must unravel the secrets before the insane entity takes more lives, beginning with theirs.
You can buy A Shadow of Time exclusively from Amazon!

LOUANN CARROLL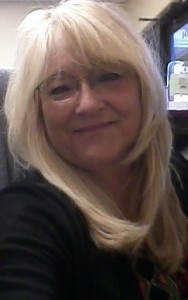 Louann Carroll is a Native Californian living in the Sierra Nevada foothills with her husband, Dennis. Mother to three children and grandmother to seven, she is an avid rock, fossil, and gem hunter, who enjoys sharing her finds with family and friends. She is a student of alternative religion, archaeology, anthropology, and paleontology. Louann has written numerous radio talk shows, articles on adoption, and is the author of Innocent Blood, Gemini Rising, The Light and the Flame, and The Journey Series, heartfelt childrens' books about the challenges of life.
You can follow Louann at these links:
GIVEAWAY
Open internationally, with one exception. Signed book is USA only.
Must be 13+ to win.
Prizes:
1 -Rear-view Mirror Ornament (Skulls)
1 – $10 Amazon Gift Card
1 – Signed Paperback Copy of A Shadow of Time
This tour is brought to you by

Please check out our other tour hosts for Excerpts, Guest Posts and more chances to win!
JodyThanks for stopping by!
"Everything you can imagine is real."
~ Pablo Picasso
—————————————————————————————————–
Unwrapping Treasure, book one in my new Granite Lake Romance series, is available now.
A contemporary romance novella (approx. 75 pages) and it's also a prequel to Chasing Treasure – a full length novel coming next year. Don't worry, this novella is a complete story.
And, I have good news for you. There's a 3rd novel planned in the Granite Lake Romance series — but more to come on that later. Let me share a little more about Unwrapping Treasure.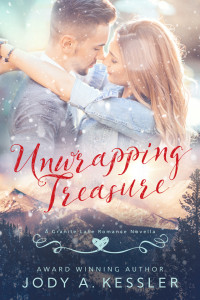 Paramedics Treasure and Bodie never imagined their Christmas Eve nightshift could turn into a dangerous and sexy holiday escapade that changes their lives forever.
Paramedics Treasure and Bodie arrive on scene at a routine emergency call and find an outrageous holiday party, a Christmas tree on fire, and an innocent life to save that nearly cost them their lives.
After escaping the chaos of work, they decide to spend their Christmas vacation together at a secluded lakeside cabin deep in the heart of the Sierra Nevada Mountains. With the snow falling soft, a warm fire in the hearth, and fresh cookies baking in the oven, an innocent holiday getaway quickly turns into a night of spontaneous passion with no strings attached.
Will Treasure and Bodie's hasty decision to spend the night tumbling between the sheets – and on the table, and the floor – prove disastrous or will their relationship develop into something neither of them saw coming?
Read An Excerpt
Treasure Vogel's day started with the scent of him. Masculine and memorable. The smell lingered in the bed, on her pillow, and in her mind. It reminded her of the shortbread cookies and hot spiced buttered rum cider they'd shared before things had taken a turn and they ended up in bed together. Bodie shocked her with his sweetness, but even more so with his raw hunger for her – and not just because of her cookies.
The log cabin she'd rented for the holiday weekend felt like a cozy home away from home. Bodie rekindled the fire and the ambient warmth radiated across the studio-style cabin to the bed where she lay. She sighed with contentment when she smelled the coffee and glanced over to see the pot half-full on the warmer and two mugs waiting to be filled.
Treasure eased herself up and noticed her Christmas present from Bodie sitting on the nightstand next to a glass of water. Reaching over, she lifted the wrapped box and cupped it in her hands with gratitude. The small present would be the only one she would open this Christmas. Most days, it didn't bother her that she'd woven her life around solitude and fleeting relationships, but she appreciated Bodie remembering her this year. She snuggled deeper into the pillows and pulled the comforter up to her chin. She wanted to savor the moment because she'd learned from a young age that part of the gift was the anticipation of what lay hidden inside…
Add the book to your Goodreads Shelf: https://www.goodreads.com/book/show/27413396-unwrapping-treasure
Or purchase for .99 cents:
*Amazon US:  http://amzn.to/1NgLb5X
*Amazon UK:  http://amzn.to/1MzEKMz
*Amazon CA:  http://amzn.to/1MzEKMJ
*Amazon AU:  http://bit.ly/1MzEL3c
Help me celebrate my new release by entering to win a $10 amazon gift card: runs Dec 3-7th
a Rafflecopter giveaway
Thank you for stopping by!
As always ~
Happy reading,
Jody A Kessler
"You've gotta dance like there's nobody watching,
Love like you'll never be hurt,
Sing like there's nobody listening,
And live like it's heaven on earth." ~William W. Purkey
______________________________________________________________________
What I Write and Why I Write It… Tag, You're It!
I've been tagged by Katie O'Sullivan in this blogging challenge to answer four questions about my writing and then tag four other writers to do the same. 
Katie O'Sullivan is a fellow Crescent Moon Press author and some of her titles include: Son of a Mermaid, Blood of a Mermaid, and My Kind of Crazy. I'm a huge fan of Ms. O'Sullivan's and highly recommend her novels. (Check out Katie's website here)
So, here it goes:
What am I working on?
Thanks for asking! My latest novel is titled, The Night Medicine. It's a Native American time travel adventure set in 1860's in Montana territory. As is my usual M.O. there's a lot going on with the plot. The novel features the Blackfoot Nation, and their way of life and the cultural impact from the early mining industry in the Upper Missouri region of Montana.
Here is a partial blurb – (It's not finished.)
Three Natives Americans time-travel from 2012 to 1868 through the practice of an ancient ceremony and with the help of a medicine pipe passed down through generations to Piegan clan member, Dean Wolfsblood. Badger, Dean's ex-marine buddy, bribes him to take the trip into the past, but surprise awaits them as Kai accidentally falls into the adventure with them. With well meaning intentions gone with the winds of time, deceit, lies, kidnapping by Salish warriors, and facing a treacherous gold-laden mining past, the three weary travelers begin to mentally unravel and their individual secrets are slowly revealed. Can they survive history long enough to make it back, or will the past change their futures forever?
How does my writing differ from others of its genre?
I think my plots are unique. I love unexpected twists that surprise the readers. I can't say that falling in love is untold in fiction, but falling in love with an Angel of Death (An Angel Falls series) whose only desire is to return to his former life at the risk of his eternal soul is different than what I've read before. My characters entertain and enlighten me daily. I hope my readers feel the same way.
Why do I write what I do?
There are few things in a lifetime that scream at you to follow through. Writing screams – no it sings – to me daily.
Joseph Campbell said this, "Follow your bliss and the universe will open doors for you where there were only walls."
The writing door swung wide open for me and I had to enter. Paranormal comes to me naturally. The supernatural has fascinated me since I was very young. As for historical, I love it! Writing my current novel has been an excellent excuse to study about early American history and the Plains tribes.
How does my writing process work?
I need uninterrupted quiet time to let the words flow through me and onto the page.
Do I struggle to find this time?  Yes, of course. But I keep writing anyway – mostly late at night.
Writing improves my sanity on a daily basis. My family can attest to that. I write as often as I can. I read all different genres and study like I was back in college. And I edit. I go over my manuscripts multiple times before anyone can read my work. The amount of hours involved in writing is more than a full-time job, but it's the best job I could ever have!
Do you have a passion that occupies your mind and tantalizes your soul?
If so, share it with the world. You won't regret it! If not, keep seeking your bliss. Listen to your spirit – your inner voice that says, "This (activity) makes me smile inside." Then do it as often as possible!
Now I tag:
Louann Carroll:   http://www.louanncarroll.com/
Jean Murray: http://jean-murray.com/
Diane J. Reed: http://www.banditsranch.com/
Alythia Brown: http://www.alythiabrown.com/
Thank you for stopping by!
Cheers,  Jody
——————————————————————————————————————
Release day is finally here!  Hunks to the Rescue box set includes some of my favorite authors! I am so honored to be part of such a wonderful group of romance writers. Don't forget to enter the giveaway and if … Continue reading →

Posted in

Blog

| Tagged

bestseller

,

books

,

box set

,

fiction

,

Giveaway

,

Granite Lake Romance

,

hunks to the rescue

,

novella

,

NY Times

,

reading

,

Romance

,

sale

,

USA Today

|

1 Comment